Nuestro compromiso con la población hispana y latina que vive con VIH
ViiV Healthcare se compromete a ayudar a reducir la desigualdad y a mejorar los resultados de salud para las personas hispanas y latinas afectadas por el VIH.
Aun cuando hemos progresado mucho en la lucha contra el VIH en los EE.UU., la epidemia sigue afectando desproporcionadamente a ciertos segmentos de la población y las comunidades, lo cual incluye a personas hispanas y latinas. En el año 2015, la población hispana y latina representó casi el 25% de todos los nuevos diagnósticos de infección por VIH estimados en los EE.UU.1 Muchas de esas personas siguen sin contar con un diagnóstico, sin tratamiento y sin acceso a los servicios esenciales.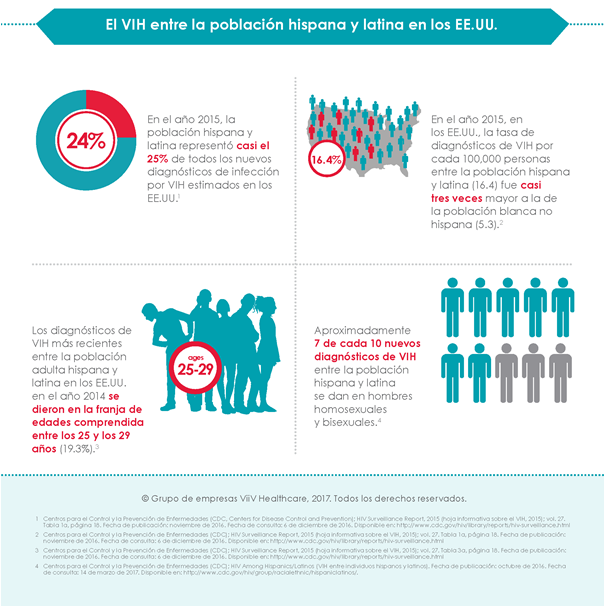 A través de nuestros programas Positive Action (Acción positiva) en los EE.UU., ViiV Healthcare se enorgullece en respaldar tareas de divulgación y defensa, conexiones comunitarias y servicios directos para las comunidades hispana y latina donde más se necesitan a fin de cerrar las brechas en la atención médica para los más afectados por el VIH. Nuestro compromiso con el apoyo a la comunidad de portadores del VIH a través de Positive Action desempeña un papel importante en nuestra misión para incluir a todas las personas que viven con VIH.
Como somos la única empresa que se enfoca exclusivamente en el VIH, no solo buscamos desarrollar nuevos medicamentos, sino que trabajamos junto con las comunidades hispana y latina afectadas por el VIH y para ellas. Y lo hacemos aplicando un enfoque holístico respecto del VIH, mediante el desarrollo de programas comunitarios sostenibles y el apoyo a estos.
Para conocer más acerca de ViiV Healthcare y de cómo trabajamos para marcar la diferencia para todas las personas afectadas por el VIH, haga clic aquí.
[1]. Centros para el control y la prevención de enfermedades (CDC, Centers for Disease Control and Prevention) HIV Surveillance Report, 2015 (Informe de observación sobre VIH, año 2015); vol. 27, página 18, tabla 1a. Fecha de publicación: noviembre de 2016. Fecha de consulta: 6 de diciembre de 2016. Disponible en: http://www.cdc.gov/hiv/library/reports/hiv-surveillance.html.
Website images are not intended to imply that the models pictured have HIV.