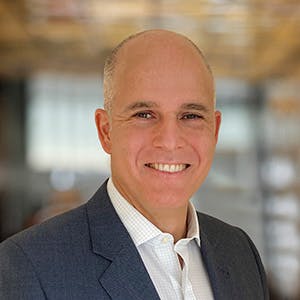 DIEGO SACRISTAN

SVP, Pfizer Oncology US Lead
Diego Sacristan is Senior Vice President, Pfizer's Oncology US lead and a member of the Global Oncology Leadership Team.
In this role, Diego leads an industry-leading portfolio of more than 20 approved innovative cancer medicines and biosimilars across more than 30 indications in the US, with a focus in breast cancer, genitourinary cancer, hematology and precision medicine.
Prior to this role, Diego served as Regional President for International Developed Markets (Europe, Japan, Korea, Australia/NZ, Russia, Turkey and Israel). Diego started his career with Pfizer in Spain and has been with the company for 18 years in a number of roles spanning a broad set of responsibilities across Europe, Latin America, Africa, Middle East and Asia.
Diego leads Pfizer's Latino Colleague Council, a group that provides networking, leadership training and mentoring programs, as well as opportunities to celebrate the ethnic and cultural diversity of Pfizer's Latino community.
Diego received both a bachelor's and master's degree in Economics and Management from the Universidad Complutense in Madrid. He also completed the Advance Management Program (PDD) from IESE Business School.
YOU MAY ALSO BE INTERESTED IN
If you get any side effects, talk to your doctor, pharmacist or nurse. This includes any possible side effects not listed in the package leaflet. You can also report side effects directly via the Yellow Card Scheme at www.mhra.gov.uk/yellowcard or search for MHRA Yellowcard in the Google Play or Apple App store. By reporting side effects, you can help provide more information on the safety of this medicine.
If you are from outside the UK, you can report adverse events to GSK/ViiV by selecting your region and market, here.