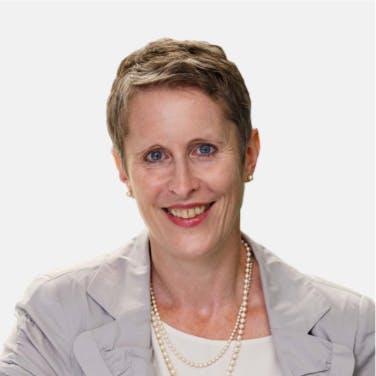 DR SABINE LUIK
Board of Directors member
Sabine Luik, MD, MBA was appointed Chief Medical Officer and Senior Vice President, Global Medical, Regulatory and Quality at GSK in December 2018. Sabine has extensive global industry experience leading teams across regulatory, pharmacovigilance, clinical development, clinical operations, and medical affairs. She is chair of the Global Regulatory Governance and Global Safety Boards and is a member of the Portfolio Investment and Development Review Boards at GSK.

Sabine is responsible for the filing of new product submissions and support for existing licenses worldwide. She also leads the global regulatory groups for Chemistry Manufacturing and Controls, preclinical, labelling, systems and platform delivery, as well as Quality Assurance for the worldwide R&D organisation.

Prior to joining GSK, Sabine held senior positions in Medical, Regulatory and Pharmacovigilance with Boehringer Ingelheim, where she established a global epidemiology team and worked across multiple therapeutic areas. Sabine was a member of the Biomedical Advisory Council (BMAC) for PhRMA from 2013 - 2018, and the Health Section Governing Board for BIO from 2015 - 2018. She has been a member of the International Council on Harmonisation (ICH) Management Committee on behalf of EFPIA since 2012.

Sabine received her MD from Johannes Gutenberg University (JGU), Mainz, Germany, and her Executive MBA from JGU in cooperation with the McCombs School of Business, University of Texas, Austin. She is a licensed physician in Germany.
YOU MAY ALSO BE INTERESTED IN
If you get any side effects, talk to your doctor, pharmacist or nurse. This includes any possible side effects not listed in the package leaflet. You can also report side effects directly via the Yellow Card Scheme at www.mhra.gov.uk/yellowcard or search for MHRA Yellowcard in the Google Play or Apple App store. By reporting side effects, you can help provide more information on the safety of this medicine.
If you are from outside the UK, you can report adverse events to GSK/ViiV by selecting your region and market, here.