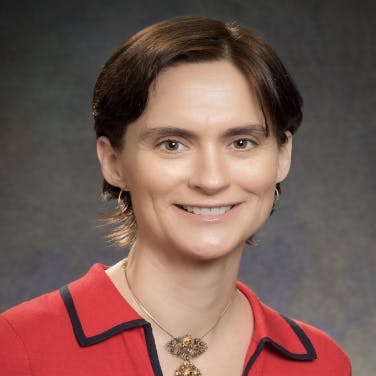 CHARLOTTE ALLERTON

Board of Directors member
Charlotte Allerton is Senior Vice President, Head of Medicine Design for Pfizer. In this role, Charlotte has worked with numerous teams to build a strong pipeline of small molecule therapeutics across Neuroscience, Rare Disease, Inflammation and Immunology, Internal Medicine, Oncology, and Antivirals, moving multiple new molecular entities into clinical development and to regulatory approval. She is a member of Pfizer's Worldwide Research Development and Medical leadership team and serves as Scientific Director for Pfizer's R&D site in Kendall Square (Cambridge, Massachusetts).
Charlotte began her career at Pfizer in the United Kingdom as a medicinal chemist, before moving into leadership positions in Pharmacokinetics, Dynamics and Metabolism (PDM) and then taking on leadership of Medicine Design, where she is accountable for medicinal chemistry, PDM, and many of the discovery platforms involved in designing new medicines.
Charlotte has a BSc. from the University of Nottingham and completed a MPhil at the University of Cambridge. She is an honorary fellow of the Royal Society of Chemistry. Charlotte was recognized as a Healthcare Business Association Luminary and Fierce Pharma, Fiercest Women in Life Sciences in 2020.
YOU MAY ALSO BE INTERESTED IN
If you get any side effects, talk to your doctor, pharmacist or nurse. This includes any possible side effects not listed in the package leaflet. You can also report side effects directly via the Yellow Card Scheme at www.mhra.gov.uk/yellowcard or search for MHRA Yellowcard in the Google Play or Apple App store. By reporting side effects, you can help provide more information on the safety of this medicine.
If you are from outside the UK, you can report adverse events to GSK/ViiV by selecting your region and market, here.