Positive Action for Women
ViiV Healthcare is committed to reducing stigma and isolation to improve access to care for women of color living with HIV.
In 2016, with the help of leaders and communities across the country, ViiV Healthcare spoke with women living with HIV and commissioned ethnographic research in New Orleans to learn more about the experiences of Black women and HIV networks of support and care. We reviewed literature and conducted an up-to-date epidemiology profile to better understand trends in time, geography and solutions for women of color living with HIV. Through this listening, it was clear that women of color living with HIV are heavily impacted by isolation at three levels:
Isolation from their friends, family and peers as a result of fear and HIV stigma;
Isolation among service providers and in local planning efforts, which often do not consider the needs of women living with HIV;
Isolation from the larger cultural discourse around HIV and women's wellness, including in clinical research, media, culture and communications.
In response, Positive Action for Women launched in 2017 to support innovative, forward-thinking community collaborations that break down isolation and stigma for women of color across the gender spectrum who are living with HIV, and develop plans that link women to networks of care. Over the past two years, ViiV Healthcare has invested more than $2,000,000 in 12 grantees across the US that have collectively reached thousands of women through virtual support groups, in-person networks, summits, conferences, media, needs assessments and widely distributed online resources created by and for women living with HIV. Positive Action for Women grantees have effectively built the leadership and visibility of women living with HIV, amplified their voices, invested in their communities and continued working to break down isolation and energize engagement.
Today, Positive Action for Women represents ViiV Healthcare's continued commitment to all women in the US, especially those disproportionately affected by HIV. We believe that addressing the health disparities faced by all women of color, particularly Black women,1 across the continuum of care is a key priority in closing the gap in HIV disparities in the US.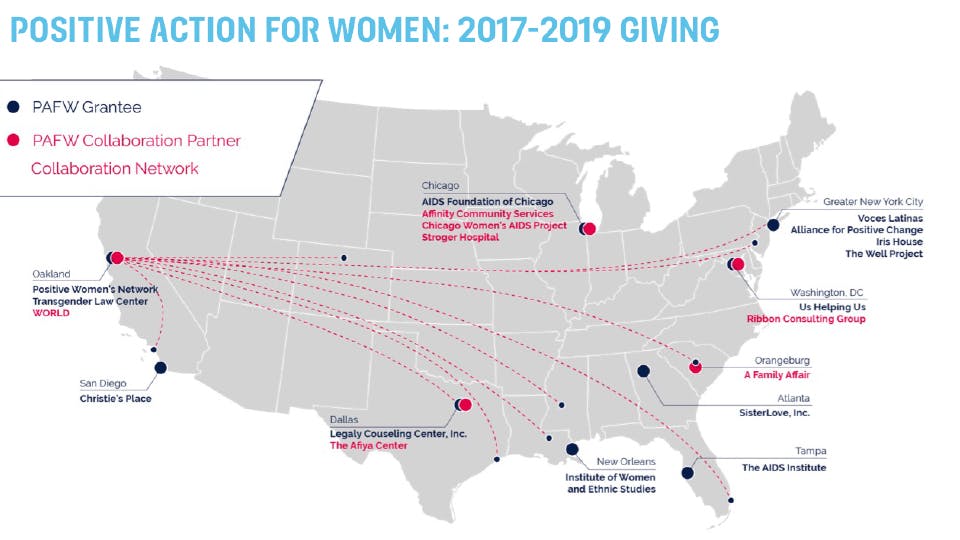 Research and Art, Breaking Down Isolation with Take My Hand [Teaser]
Based on the real stories of Black cis and trans women living with HIV, Take My Hand is ViiV Healthcare's newest impact theatre piece and community activation that focuses exclusively on the urgency and hope around Black women and HIV. As part of ViiV's Positive Action for Women initiative, the performance and discussions turn research into art, helping audiences feel more comfortable talking about HIV and how to connect women living with HIV to networks of support.
Positive Action for Women Grantee Spotlight: AIDS Foundation of Chicago – Women's Connection
ViiV Healthcare is pleased to spotlight the inspiring work of the Women's Connection, a program of the AIDS Foundation of Chicago (AFC), in a new case study. AFC's Women's Connection embodies the core strategies of ViiV Healthcare's Positive Action for Women initiative -- to foster networks of women and organizations who focus on the impact of HIV on cis and trans women of color and help to engage women in care. In Chicago, the Women's Connection engaged a network of women leaders, conducted a city-wide plan, and convened a unique collaboration focused on the needs and experiences of Black cis and trans women living with HIV. Learn more about their work and its impact here.