THE ROLE OF PREP IN ENDING THE HIV EPIDEMIC


This July marks the 10-year anniversary of the first approved PrEP medicine for the prevention of HIV. As we celebrate this historic milestone, it offers us an opportunity to reflect on the progress made over the last decade, as well as to commit ourselves to the work that remains.

Despite having the tools to end the HIV epidemic with medicines to both prevent HIV and provide treatment that allows people living with HIV to be undetectable and unable to transmit the virus, HIV continues to be a global health crisis. In the U.S. alone, an estimated 1.2 million people are living with HIV, and almost 37,000 new HIV diagnoses are made each year.1,2
As we look toward the future, PrEP, or pre-exposure prophylaxis, has a central role to play in helping to reduce new HIV cases and the impact HIV has on millions of lives each year. PrEP is proven to prevent HIV acquisition and is an essential tool to help end the HIV epidemic.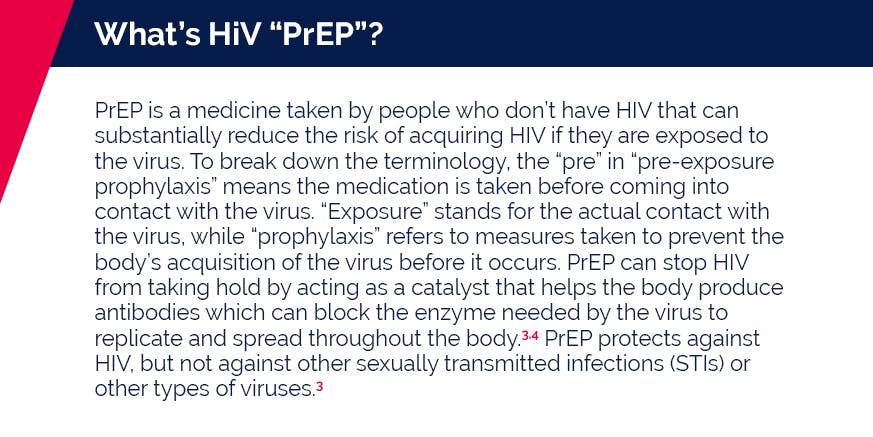 Since its initial approval as an oral tablet in 2012, PrEP has had a substantial impact on the lives of those who have been able to utilize it. Yet, as of 2019, the U.S. Department of Health & Human Services estimated that less than 25% of people in the US who could benefit from PrEP were taking it5,6

In December 2021, the U.S. Food and Drug Administration approved the first long-acting injectable PrEP option to reduce the risk of sexually acquired HIV-1. Both injectable and oral PrEP substantially reduce the risk of getting HIV from sex when taken as prescribed.7

PrEP Uptake
PrEP uptake is limited for a number of factors, including lack of awareness, inaccurate perceptions of risk, stigma, inaccessibility of healthcare systems, and other barriers to individual and provider acceptance.8 There also is an urgent need to increase PrEP usage among the populations who are most disproportionately affected by HIV.9 For example:
Black/African American and Latinx people represent 74% of new HIV cases despite only accounting for 31% of the US population1
The transgender community had new diagnoses approximately 20 times the national average in 201910
The Southern U.S. accounts for 52% of new cases even though just 38% of the US population lives in the region11
In 2018, cisgender women represented 1 in 5 new HIV diagnoses in the US, 58% of which were Black/African American and 18% of which were Latinx12
Nearly ten years after PrEP first became available, only 10% of women who could benefit from it were prescribed it, and there is insufficient data to understand how many Black cis and trans women are engaged
The Importance of PrEP Options
As we embark on a new decade of HIV prevention, it is essential that we acknowledge that one size does not fit all. No single medicine will work for everyone in all circumstances, so it is crucial to ensure that all those who could benefit from PrEP are aware of the options available to meet their evolving needs. This will get us one step closer to fully realizing the potential of PrEP in ending the HIV epidemic.
To learn more about PrEP, speak with a doctor or health care provider, or visit ViiV Healthcare's Me in You, You In Me, a new campaign to de-stigmatize and normalize conversations around HIV prevention.