"As Much as I Can" wins Excellence in Patient Engagement award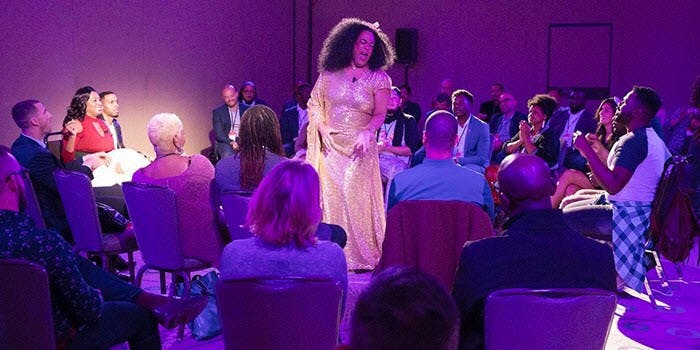 Since the immersive theater experience "As Much as I Can" (AMAIC) debuted last year, it has engaged more than 1,500 attendees to start a larger conversation about the gaps in HIV prevention, treatment and care for Black gay and bisexual men. At the World Congress' Patient Congress on March 20 in Philadelphia, AMAIC received national recognition by receiving the Excellence in Patient Engagement award.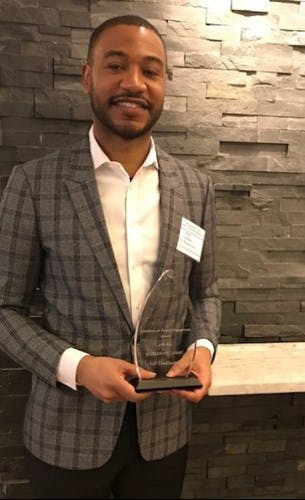 World Congress brings more than 250 healthcare industry leaders together at its annual Patient Congress to discuss ways to better meet patient needs across the entire care continuum. In partnership with WEGO Health, it introduced the Patient Choice Awards this year to acknowledge organizations and programs that "demonstrate measurably better and more transparent health outcomes and promote a better patient experience." The Excellence in Patient Engagement award recognizes an initiative "designed to create innovative, scalable strategies to improve patient engagement and optimize medication adherence," or a program that offers "inter-disciplinary ways to co-create health solutions that engage patients to be an active participant in their health management."
"This award means a great deal to our organization, but it truly belongs to the men of Baltimore and Jackson," said Kali Lindsey, senior manager for External Affairs North America, who was on hand to accept the award on behalf of ViiV Healthcare. "Their stories are rich, the need to hear them is great—and "As Much as I Can" would not have been possible without them. ViiV Healthcare is proud to amplify their voices to help break down stigma, increase engagement in care, and improve health outcomes for Black gay and bisexual men."
AMAIC, a key component of ViiV Healthcare's ACCELERATE! Initiative, was co-created with and about Black gay men in two cities hardest hit by the HIV epidemic: Baltimore, MD, and Jackson, MS. It was borne from original ethnographic research with 30 Black gay and bisexual men in both cities, and dozens of men helped nuance the AMAIC narrative around their lives and the challenges they face regarding stigma, love, family, faith and self-acceptance. These stories became the basis for many of the scenes and interactions in the immersive experience.
"Initiatives like ACCELERATE! are one way ViiV Healthcare goes beyond our medicines to help close the gaps in care for communities most affected by HIV," said Eric Dube, head of ViiV Healthcare North America. "As the only company solely focused on HIV, we must continue our work with the HIV community and design innovative approaches that address stigma and break down barriers to care for all people living with HIV. We're grateful to World Congress and WEGO Health for the recognition as it inspires us to do more to end the epidemic."
AMAIC will open for a three-week run in New York City on May 8 at the historic Harlem Art & Culture Space.
----------
ABOVE: Kali Lindsey accepts the Excellence in Patient Engagement award on behalf of ViiV Healthcare, the ACCELERATE Initiative and "As Much as I Can".
Website images are not intended to imply that the models pictured have HIV.