KENYA COUNCIL OF IMAMS AND ULAMAA (KCUI)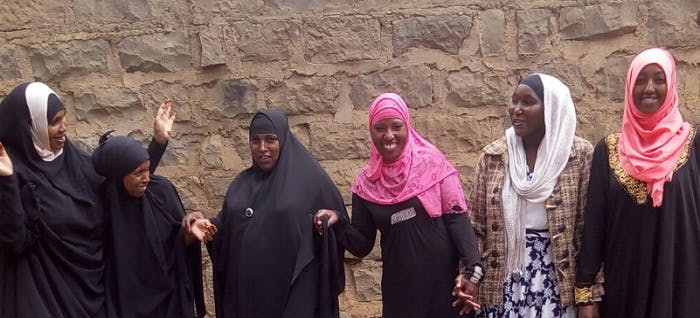 The Kenya Council of Imams and Ulamaa (KCIU) is a faith-based national network of Imams and scholars in Kenya. Established in 1996 and registered under the Societies Act in 2001, KCIU's Mission is to promote and enhance community empowerment in the areas of religion, health, education, social and economic development.
One of KCIU's main mandates is to offer the Muslim community, who form between 20-30% of the total population in Kenya, health interventions in HIV/AIDS, Malaria and TB prevention, care and support, prevention of mother-to-child transmission, reproductive health, family planning, maternal child health and Gender Equality promotion.
KCIU collaborates with other stakeholders and partners and the Government of Kenya to realize its objectives.
Female genital mutilation and cutting (FGM/C) are practiced within several Muslim communities of Sub-Sahara Africa, including Kenya's. The most common is type III infibulations at 75 % of the reported cases in the community. KCIU is targeting Muslim community girls, women and men in Nakuru, Laikipia and Baringo Counties whose total population is 2,395,762 (KNBS 2009, Kenya).
Muslims account for 20% of this population, that include a large proportion of migrants of Somali origin, 97.7% practicing FGM/C and type III infibulations at 75 % of the reported cases in the community. The Kenya demographic health survey indicates that 84% of FGM/C procedures are done between the ages of 7-15 within these counties. At this age, after the procedure has been done, most of the girls drop out of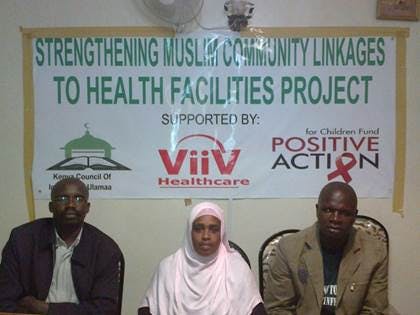 In the 'Wezesha Wasichana Wetu – Empower Our Girls' project, one of the key objectives is to increase awareness on the harmful effects of FGM/C in the targeted counties by 2018.
In order to achieve this, KCIU collaborates with the health, social- care, education and law- enforcement sectors, a multi-agency approach to tackling FGM/C with central co-ordination so as to harness the expertise of diverse professionals to help disseminate anti-FGM/C messages effectively. The Project mobilized and sensitized 50 stakeholders on the harmful effects of FGM/C.
Anti-FGM ambassadors pictured in Laikipia County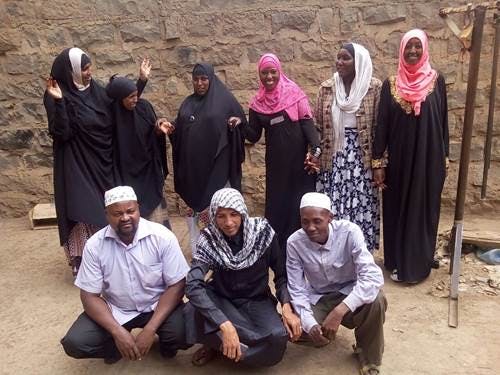 KCIU's empowerment program seeks to increase awareness on the harmful effects of FGM/C and significantly reduce its practice in three counties: Nakuru, Laikipia and Baringo. The initiative's approach targets multiple key stakeholders including religious leaders, community members, schools, parents and AGYW, to disassociate the practice of FGM/C with Islam.
The project trained and supports 28 Maalimats and 12 Imams to undertake anti-FGM/C outreaches to 20,000 community members. The Imams play an important role here, first, they are the community gatekeepers, and second, their buy-in and participation in the project is paramount in order to disassociate the practice from religion and to reach a wider audience that includes males so as to catalyze male involvement. The Maalimats are reaching out to young girls and women, including those who have already undergone the practice, empowering them to speak up to other women and share their experiences so as to inspire and question their acceptance of the practice and increasingly building confidence to speak out against the practice.
Sensitization sessions targeting 2000 girls and boys age 10+ on harmful effects of FGM/C are being conducted in schools and madrassas. The sessions are aimed at empowering the girls to say no to the practice and the boys to support them in this.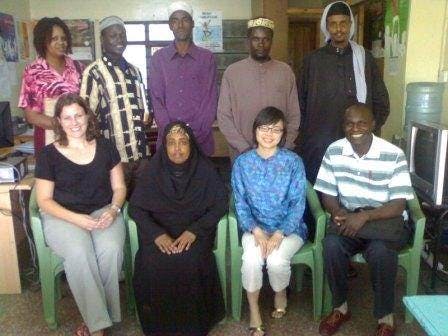 Another objective is, by 2018, to promote the rights, education and campaigning abilities of girls in the three counties in which the project supports the capacity of twenty schools/madrasas to provide counsel, anti-FGM/C and health talks to girls age 10+ and form 20 clusters/clubs for girls and boys in each participating school/madrasa to empower the girls on their rights, including their SRH and to monitor any impending FGM/C activity amongst the girls. KCIU has formed three inter- sectorial anti-FGM lobby groups, one in each of the counties, to monitor and support the elimination of FGM/C and gender inequalities, and supports the quarterly monitoring meetings for the group.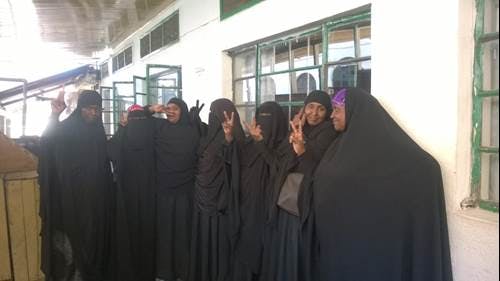 The trained Imams are working tirelessly to explain to conservative religious and clan leaders, and to the community at large, that the practice had no basis in Islam by giving the correct religious view on the practice and disseminating anti-FGM/C messages. This has sparked discussion and dialogue, inspiring individuals and the community to question their own belief on the FGM/C practice.
The trained Maalimats are facilitating sessions which have empowered young girls, adolescents, and women who have already undergone the practice to speak up to other women and share their experiences to inspire and protect their younger siblings and the next generation. Expressions of dissent are of paramount importance towards eradicating FGM/C because the voices bring authenticity and vulnerability to the conversation. Speaking from their own experiences to their peers, parents, younger sisters, daughters, and the world at large, hence, carrying an exceptional power to effect change.

By the end of the project, we anticipate reaching 2000 girls and boys age 10+ as direct beneficiaries with anti-FGM/C messages that are geared towards empowering them to say no to FGM/C; 20,000 community men and women sensitized on the harmful effects of FGM/C with an expected outcome of abandoning the practice. Also, we'll have established three Multi-Sectoral anti-FGM/C Lobby Groups and 20 Clusters/Clubs at schools/madrassas where girls and boys age 10+ receive counsel and monitor any FGM/C activities amongst themselves.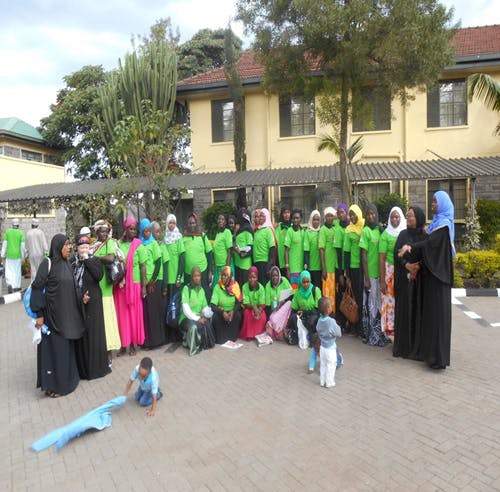 Quotes:
"We have managed to conduct outreaches at community events like weddings, funerals, women support group meetings, madrassas and during the weekly women gatherings at the local Mosques.
"After being trained by KCIU on the harmful effects of FGM/C and that it was not a religious obligation as previously portrayer, and with the legal frameworks in place against the practice, we now have the knowledge, strength and religious back-up through the support of the Imams to stop and end FGM/C in our community.
'Already, we have 19 households who have decided not take their girls for the cut! These girls shall now be ensured of staying in school through to high school and therefore be able to understand their rights as enshrined in religion and the Constitution of Kenya, get employment of even start their own businesses and own properties that they can manage' says Ajabo, another Ambassador volunteering in the Project."
Anti-FGM/C Ambassador
"My site visit to KCIU began with an extremely helpful insight into the demography and traditions of the local community in Nakuru. Muslims in Nakuru account for 20% of the overall population and by the age of 15, 97.7% of girls from these communities are subject to FGM/C - of these, 73% receive Type 3. Furthermore, 21% of the new HIV cases in Nakuru are recorded in AGYW aged between 15 and 24 years. FGM/C is a widely accepted practice which marks a girls transition into 'womanhood' and is often accompanied by an early/ forced marriage, both of which significantly increase vulnerability to HIV. I found it both surprising and interesting to learn that the cutting ceremonies often occur without the consent or knowledge of male partners or guardians and instead, are almost always perpetuated by female members of the community including the girls themselves."
"For the first half of the day, I was invited to meet with the chief imam of the entire region, several regional Imams and a number of female anti-FGM/C Outreach Ambassadors at the local Mosque. I was incredibly impressed by how quickly KCIU had been able to r4ecruit such influential members of the community to proactively disassociate the practice of FGM/C from Islam in their religious teachings.'
Site Visitor to the centre (anonymous)
In Partnership with Kenya Council of Imams And Ulamaa

Supported by Positive Action for Women & Girls