YOUNG BRITONS BREAK DOWN HIV STIGMA & ISOLATION TO BE THE #GENENDIT
Read what our Global Medical Lead for Paediatrics Dr Katy Hayward thinks about the urgent need to support young people to tackle HIV stigma and fight the epidemic in the UK and around the world
By Dr Katy Hayward, Global Medical Lead for Paediatrics
Listening to Charlize Theron's speech, at the opening of AIDS 2016, I applauded her call to support and champion young people and to make sure that we keep talking about the HIV epidemic.
Since the last International AIDS Conference in Durban in 2000 we have achieved some great successes, particularly around the prevention of HIV transmission at birth. In the UK, the result of the mandatory HIV testing means that today the rate of transmission at birth is below 1%.
But, as she pointed out, what about teenagers who have already been infected (mostly from birth) and are living with the HIV?
In 2013 there were 736 new HIV diagnoses among those aged 15-24 years in the UK, and 643 under-15 were receiving care for diagnosed HIV infection, together with 2,699 15-24 year olds (Public Health England, 2014).
There are approximately 1,500 children, young people and young adults living in the UK who acquired HIV during childhood. When I mention to people that these young people do exist in the UK most people's reaction is one of surprise, 'that's not a problem now', 'you never hear about that', 'hasn't that gone away?'
These comments I often hear reflect that many of us in the UK feel that it will never happen to us or our loved ones. But unfortunately, it could and we should all be more open to discuss it instead of putting blame and pressure onto people living with HIV. Today, because of the work I do, because of the projects I am involved with, I passionately feel the responsibility to be a voice for these inspiring young people.
The satisfaction of seeing the numbers of new HIV infections decrease globally but particularly in the UK whilst a huge achievement, can also mean that some young people living with the condition can feel incredibly isolated both mentally and geographically
At a previous International AIDS Conference one young person living with HIV from the UK was told by another international advocate she didn't have anything to complain about as she had access to treatment. This was really upsetting for her as access to medicine is a key part of the challenge for people living with HIV, but it's so much more than that.
Research shows these young people suffer poor self-esteem and higher than average mental health problems and high rates of suicide attempts. Most people's first sexual experiences are terrifying enough (remember that?) without the challenge of becoming a sexually active adult with a virus that you know if transmitted could result in a criminal prosecution.
One of the projects by the Children's HIV Association (CHIVA) that aims to break this isolation is their one week residential programme organised each year, which I have been privileged to attend and participate in. This programme brings young people together to share experiences, learn about HIV, sexual health and share stories about disclosure. For most of the young people this is the first time they have been able to openly talk about their HIV.
This camp is run by CHIVA an organisation set up to support young people living with HIV in the UK, educate them and importantly advocate for them. A recent campaign they have run – based on identifying that there was a need to be better informed about the needs of pupils who have HIV – is the Educate Yourself: Working Towards HIV Friendly Schools campaign.
It was at the launch of this campaign at the House of Lords that I heard stories from a number of young people where things had gone really well or horribly wrong when teachers and/or other pupils had found out about their HIV status. The consequence of sharing someone's HIV status can be huge to that person and, if negative, can have devastating results. One of these young people, a beautiful strong young woman from a region in the UK, broke down in tears as she explained that her status had become a subject of gossip in school. This was heart breaking.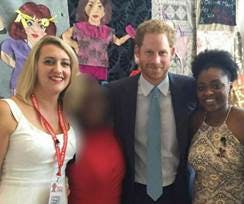 Having met young people from around the globe these opportunities help young people to grow in confidence are essential for them as individuals but also to grow the leaders of tomorrow, another call to action that Charlize made during her opening speech, which I wholeheartedly support.
But these young British people need support from all of us to lead not just for the UK but for the world. When the CHIVA team met Prince Harry at the 2016 International AIDS Conference they explained how HIV had affected them and that stigma was still an
issue in England. He appreciated this and encouraged testing as shown by his recent and public HIV test. I have had an HIV test have you?
HIV is not something to be afraid of or embrace but to normalise. Until we do that stigma will prevent people from testing, seeking treatment and be able to tell others they live with HIV in the UK. A first step would be that we all get tested as many people, including in the UK, are not aware of their status.
If someone tells you they have HIV, it is a privilege that you are being trusted and we should support them. That way we can all change the world and '#GenEndIt', a cause supported by so many.
--
ViiV Healthcare is proud to support CHIVA, including their Annual CHIVA Support Camp and Educate Yourself: Working Towards HIV Friendly Schools campaign.