TRANSFORMING THE FUTURE FOR CHILDREN LIVING WITH HIV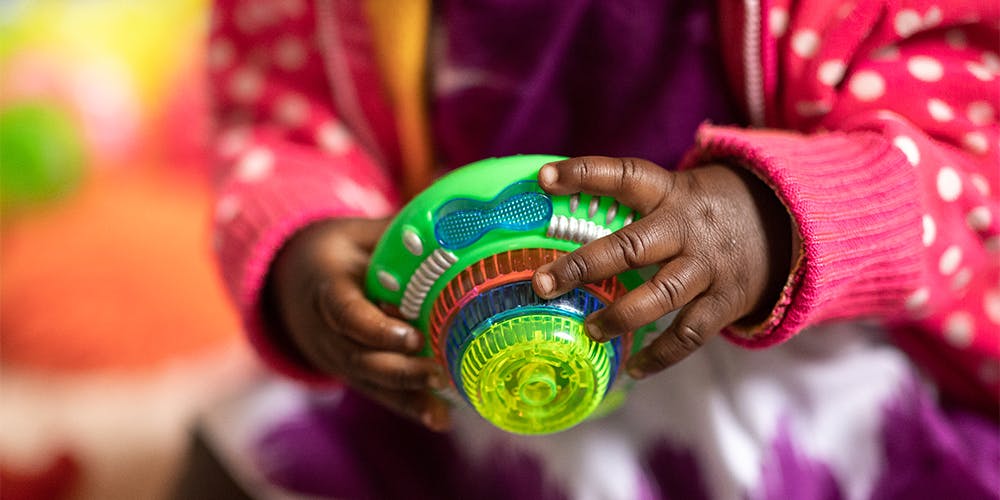 We don't often talk about HIV in children, yet looking at the latest global statistics from UNAIDS, 1.7 million are currently living with HIV.1 It's a sobering thought that despite the incredible advances we have made in our fight against HIV, there are still so many children affected by it.Working for ViiV Healthcare, the only pharmaceutical company 100% focused on HIV, we have a responsibility to ensure life-saving medicines are developed to meet the needs of children living with HIV.
ViiV Healthcare is on a mission to leave no person with HIV behind
HIV knows no bounds and it particularly impacts children in the developing world – 89% are in sub-Saharan Africa.1 A critical part of our global health commitment to reduce the number of HIV cases from 38 million to zero is developing innovative paediatric HIV formulations that cater to the needs of children as they grow.
This passion is one of the reasons why I'm proud to work for ViiV Healthcare. At a time when modern medicine has created a world where HIV is now a long-term treatable health condition, we must continue to work to relieve the burden of HIV in key populations, such as children. In spite of the great progress that has seen AIDS-related deaths among children significantly reduced, the majority still occur during the first five years of life.2 In fact, without treatment, half of children living with HIV die before their second birthday.2

Our work to improve the lives of those children most affected by HIV gives me hope for the future and we are getting ever-closer to delivering an AIDS-free generation.

Addressing HIV in an often 'invisible' population
One of the challenges in reducing the number of children living with HIV is that they are often difficult to find, they are spread out and they may not know they have the infection. Children also don't have a voice to share their treatment concerns, ambitions or express what they want and need for their care. They are often overlooked and can become 'invisible'.
Currently, there are few child-friendly HIV treatments, making it even more difficult for children living with HIV to live happily and healthily, as they deserve to. It is vital that we address the gaps in paediatric HIV treatment and work to develop innovative, age appropriate formulations.
We have voluntary licence agreements in place which cover areas where 99% of children living with HIV in the developing world reside3 , meaning generic companies can develop, make and sell generic versions of dolutegravir.
But developing and ensuring access to age-appropriate formulations of our medicines is only half the battle
As part of our commitment to children living with HIV, we work alongside the HIV community and our partners to help provide access to our medicines and connect those communities most in need of vital health services.
Our contribution to meet global health targets in HIV, both our own and those of the wider community, motivates me to empower those in need of support. Through Positive Action and our partnerships with community-based organisations, ViiV Healthcare helps build the capacity of local communities in over 30 countries to work in harmony with health systems and get closer to making sure that every person has access to the care services they need.
Progress continues in the fight against paediatric HIV, but we must keep going
Our purpose has always been driven by those that need us most and we will continue to break down the remaining barriers in HIV care until we reach our goal of ending the epidemic. For good.
If you get any side effects, talk to your doctor, pharmacist or nurse. This includes any possible side effects not listed in the package leaflet. You can also report side effects directly via the Yellow Card Scheme at www.mhra.gov.uk/yellowcard or search for MHRA Yellowcard in the Google Play or Apple App store. By reporting side effects, you can help provide more information on the safety of this medicine.
If you are from outside the UK, you can report adverse events to GSK/ViiV by selecting your region and market, here.