ONE MILLION POSITIVE FACES
Tackling HIV stigma and discrimination together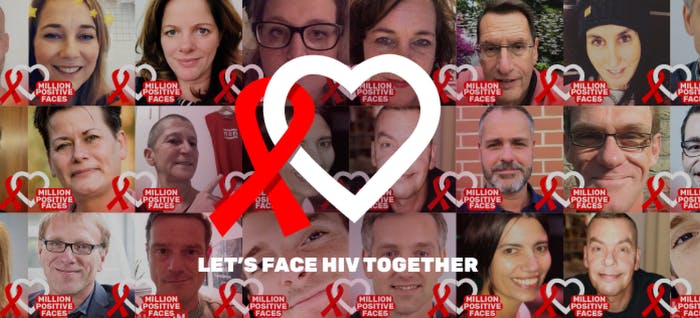 Decades of research and development have seen HIV science and treatment change beyond recognition in the last 30 years. However, there is no pill for the stigma that still surrounds HIV.
As a result, people living with HIV around the world suffer isolation and discrimination, and often miss out on proper diagnosis and care.
One Million Positive Faces to show our support
Through #MillionPositiveFaces, we want to declare that we support people living with HIV wherever they are in the world. We want to make a powerful statement against the stigma and discrimination that people living with HIV face every day of their lives.
Inspired by the UNAIDS Zero Discrimination Agenda and 90-90-90 goals, we decided to raise the ambition to 100:100:100 (=1 million!)
Our hope is that one day 100% of the people with HIV worldwide will know what their status is, that everyone with HIV has access to HIV treatment and that this treatment is effective for everyone. When we reach this goal, there will be zero stigma, zero deaths as a result of AIDS and zero new HIV infections.
We stand united with people living with HIV and hope you will join us by putting your face to the campaign.
The impacts of HIV stigma
People living with HIV still experience everyday stigma and negative reactions from those around them. Many are afraid of telling others about their HIV status for fear of judgement or rejection. Others may not yet know they have HIV, yet are afraid of getting tested for fear of being labelled HIV positive.
This enduring discrimination can make it difficult to lead a normal life with HIV.