FROM CLASSROOM TO CONGRESS HALL MY YEAR AT ViiV
Since 2012, ViiV Healthcare has offered an opportunity for students to take part in a 12-month industrial placement programme. Taking on roles with real responsibility, placement students are incredibly valued and play a big part in contributing to the success of projects across the company. Hear from Sophie, our 2017/18 Positive Action executive, about her role and experience.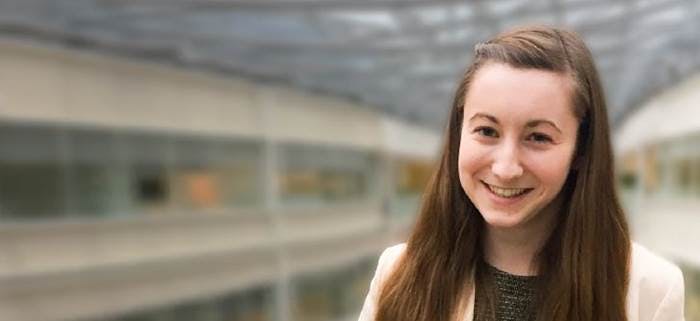 Sophie Demellweek
Sophie joined ViiV Healthcare in July 2017 as part of the industrial placement scheme, taking a year away from her studies in Natural Sciences at Bath During her placement she was part of Positive Action – the first pharmaceutical initiative of its kind; created to help support those communities most affected by HIV Sophie's role involved supporting our wide range of NGO partners and grantees, which aim to tackle the societal factors contributing towards HIV prevalence.
We caught up with Sophie at the end of her year placement to hear more about her experiences.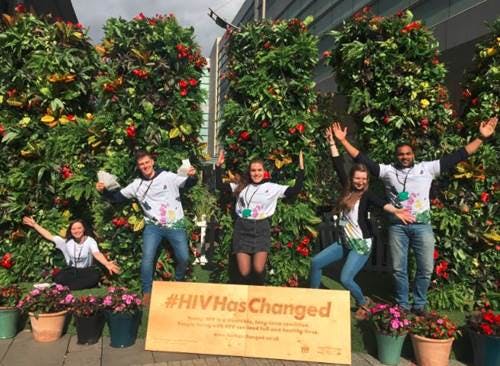 Sophie in Manchester with our other IPs, supporting the #HIVHasChanged stigma campaign, September 2017.
Why did you choose ViiV and why Positive Action?
From the age of 16, I knew I wanted a career in International Development… I went on to do a Natural Sciences degree, with a view to using my scientific knowledge to make a difference to people's lives in the future. As soon as I saw the advert for a placement year within Positive Action at ViiV Healthcare, I knew it was the perfect opportunity for me to gain valuable experience and knowledge to stand me in good stead for my dream career.
Tell us more about Positive Action and your role…
The Positive Action for Children's Fund as we know it today was launched as a £50m, 10-year commitment upon ViiV's inception in 2009. The fund supports small, grassroots CBOs (community-based organisations) working in the field to prevent mother to child transmission of HIV, to ensure every child has a HIV free start in life. The fund has approximately 150 grantees at any one time, as well as running a comprehensive capacity building programme of Technical Assistance for those who need extra support.
During my placement year as a Positive Action Executive I had the responsibility of running the Technical Assistance programme, which involved managing the whole programme and working with internal and external stakeholders to make sure our grantees could achieve their full potential in their projects.
I also managed grantees of my own, forging strong relationships with project leaders in Sub-Saharan Africa as they implemented life-changing projects in their own communities.
What was the highlight of your year?
Without a doubt, the highlight of my year was my last week in Amsterdam, where I volunteered for the International AIDS Society, at AIDS 2018 - the International AIDS Conference. It was a brilliant opportunity to get even closer to the communities and people living with HIV who I'd been speaking to and supporting during my year.
At the conference, I was asked to present some research that a colleague and I had conducted around funding trends for community groups working on HIV, including where they are getting their support from and what more could be done. It was a great experience and felt surreal to be on stage presenting our work at an international congress alongside a panel of experts.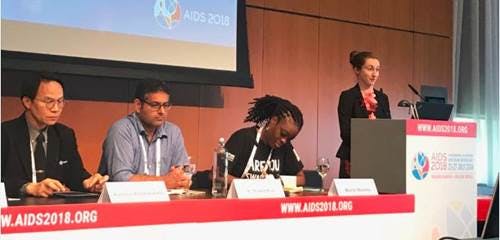 Sophie speaking at the International AIDS Conference in Amsterdam, July 2018
Positive Action had a jam-packed schedule for the conference, so I was also involved in running a UNAIDS symposium about the progress towards the Start Free super fast-track targets, where we launched a report I 'd written detailing the findings of Positive Action Challenges' Start Free Challenge.
"An extraordinary experience with responsibilities and opportunities, I never thought possible"
How would you sum up your year at ViiV?
My placement at ViiV Healthcare has been an extraordinary experience – not only is it a welcoming and unique place to work, but I have been given responsibilities and opportunities I never thought possible. I'm incredibly thankful to the Positive Action team for all their support and can't wait to get started in a career in the sector after I graduate.
Why not start your career journey at ViiV Healthcare and apply to join our Industrial Placement scheme?
Applications are open from Friday, 5th November until Sunday 16th December.
Find out more about the roles on offer and how you can apply online.