THE STATE OF HIV IMPLEMENTATION SCIENCE: DO WE NEED MORE SCIENCE OR MORE IMPLEMENTATION?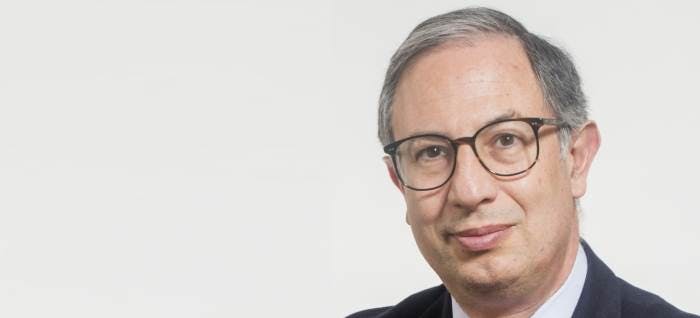 Dr. del Rio is the Hubert Professor and Chair of the Hubert Department of Global Health and Professor of Medicine at Emory University. He is the Principal Investigator and co-Director of the Emory Center for AIDS Research (CFAR).
We live in an era where scientific advances have given us the tools that make it possible to end the AIDS epidemic as we know it.
If people living with HIV are diagnosed, linked to care, started on antiretroviral therapy, achieve virologic suppression and remain suppressed people with HIV could live normal lives and HIV transmission would end. As a result UNAIDS launched in 2014 the "90-90-90" goals for 2020. 90-90-90 targets are focused on improving the care continuum and emphasize viral suppression as the major goal of care for people living with HIV.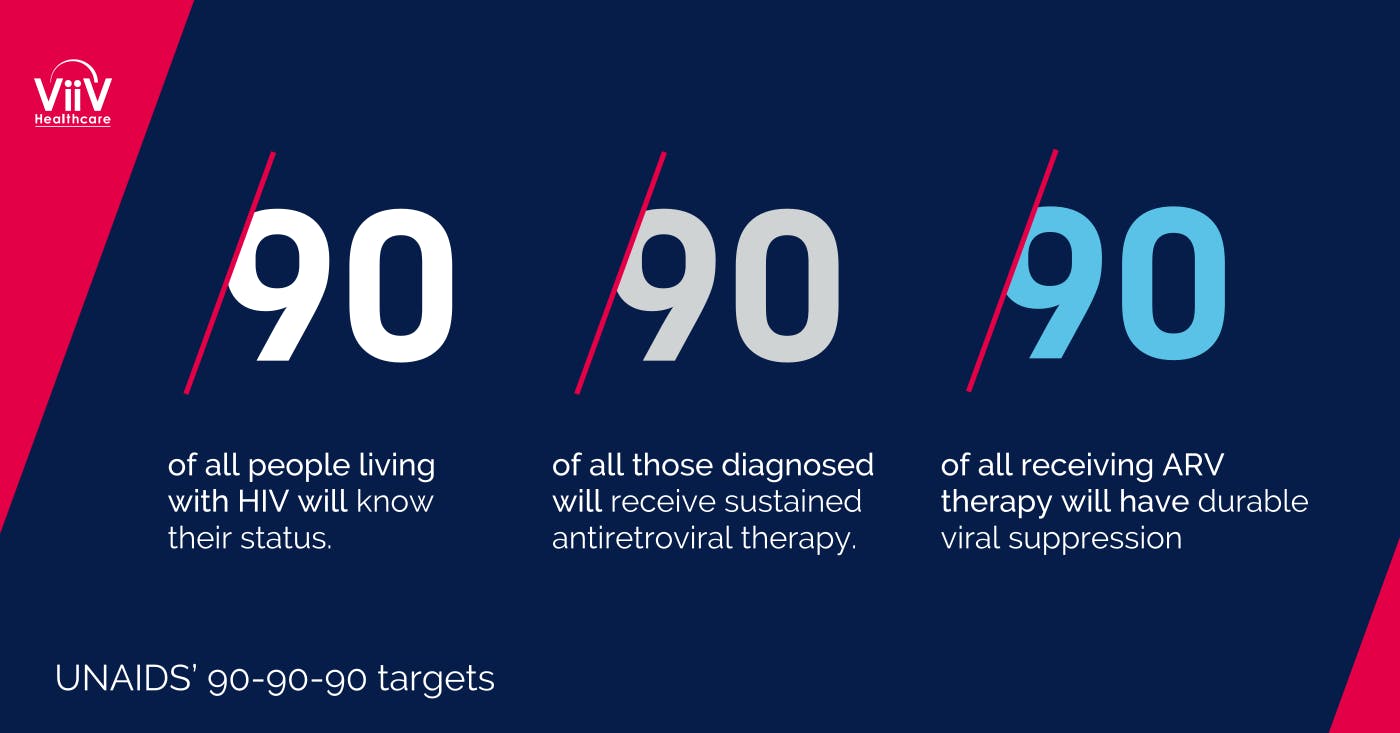 The journey so far…
We have made significant progress, globally, with a record 19.5 million people on antiretroviral therapy (about 50% of those living with HIV), a 16% decline in new infections and 32% decline in AIDS-related deaths between 2010 – 2016.While there is reason for optimism, the reality is that 1.8 million new HIV infections occurred in 2016 and, in some groups, in particular youth, new infections are actually increasing and we are not on target to reach 90-90-90 by 2020.
As of 2017, 70% of people with HIV know their status, 77% of those living with HIV who know their status are on treatment and 82% of those on treatment are virally suppressed. This means that only 44% of all living with HIV are virally suppressed, far from the 73% goal of 90-90-90.
If we have the tools to end HIV, then what is the challenge? Undoubtedly, effective implementation is our greatest challenge to End AIDS.


Overcoming the challenge of implementation
We know that implementing what we have learned as efficacious in research and translating it into population effectiveness is not simple. Implementation science will be critical to overcoming this gap, the implementation gap. The Fogarty International Center at NIH has defined implementation science as "the study of methods to promote the integration of research findings and evidence into healthcare policy and practice. It seeks to understand the behavior of healthcare professionals and other stakeholders as a key variable in the sustainable-uptake, adoption, and implementation of evidence-based interventions."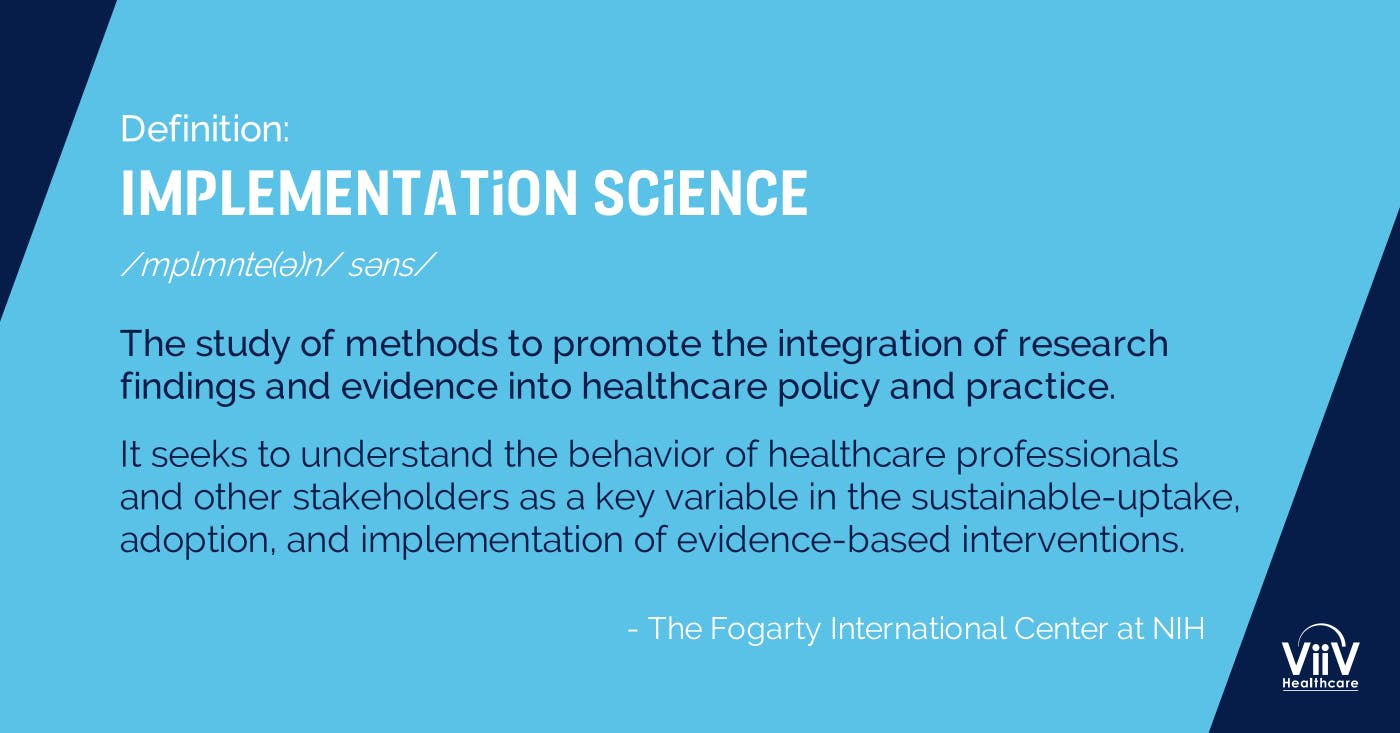 Therefore implementation science is research on the methods to promote the uptake of research findings into practice. In implementation science research does not only focus at the patient level but at the level of the providers, organizations, health systems and health policy. Typically, implementation science begins with an underutilized evidence-based intervention and then identifies and addresses gaps and barriers.
Needless to say, in order to do implementation science one needs both evidence-based interventions and an effort to implement these interventions. The major problem then with traditional implementation science is the long timeline before we reach the point where we can conduct implementation science. Additionally, we rarely have interventions that fit every setting and in general, there is much inertia in healthcare and practice is difficult to change.
Finally, one must not forget the role of other barriers to implementation such as bureaucratic and administrative challenges, the role of religion and culture, the capacity of providers and the lack of health system integration.
"Undoubtedly, effective implementation is our greatest challenge to ending AIDS."
Carlos Del Rio, MD
Addressing the continuum of HIV care
The HIV care continuum has become a visual representation of the HIV care process and outcomes. As patients move across the continuum from diagnosis to undetectable we realize that patients fall off the care continuum at a variety of critical time-points, each representing a potential focus for intervention. In particular, retention in care has been recognized as the weakest point on the care continuum with up to 50% of those linked to care failing to be retained in care.
Several studies have identified racial/ethnic minorities, youth, substance users and the uninsured as patient groups who are less likely to be retained in care. These same groups are overrepresented among persons living with HIV/AIDS in the Southeast, the current center of the US epidemic and where care continuum outcomes remain suboptimal. In addition, barriers to care including stigma, low social capital, conspiracy beliefs, religion, poverty and education play an important role in driving these poor outcomes.
When trying to identify evidence-based interventions for retention in care it is clear that there are precious few that have proven to be efficacious and for all of them the effect size has been small and thus we need additional research to find interventions that improve retention in care. Yet preventable new infections and deaths continue to occur, so we need to mechanisms to identify efficacious interventions and overcome the implementation gaps simultaneously.
A potential approach is the use of mixed methods and novel research approaches such as Sequential Multiple Assignment Randomized Trials that have been developed for chronic diseases to develop adaptable interventions, which may be more applicable in the real world.
How do we translate this into meaningful policy?
Finally, translating implementation science into policy will require scientists to facilitate knowledge exchange at the interphase of science and policy. This "knowledge brokering" will facilitate the translation of science into policy, ideally facilitating more robust implementation.
In conclusion, we need more science but we also need more implementation in order to do the science. Ultimately we need a different type of science if we are to solve the current implementation problems.