ADDRESSING THE CHALLENGES OF THE HIV EPIDEMIC IN AFRICA
Understand the challenges of HIV/AIDS in Africa and how we are working to address and overcome these issues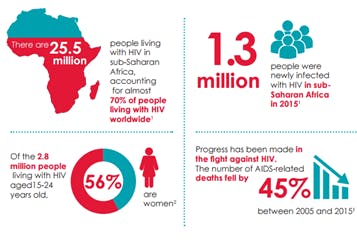 While HIV is a global epidemic, no continent has been more impacted than Africa. As a matter of fact, close to 70% of all cases of HIV/AIDS today are found in sub-Saharan Africa, with nearly one out of 20 adults in this region living with HIV.[i] Moreover, of all children living with HIV in the world, 91% live in sub-Saharan Africa.[ii]
Beyond the statistics, tangible solutions are needed to address the HIV epidemic in this region. It is crucial that these solutions factor in barriers to HIV treatment and care across the region. As such, local communities' facilities need to be considered, to ensure local groups can deliver programmes, with the view of eliminating HIV/AIDS by 2020, according to UNAIDS.[iii]
As we come together in Durban, South Africa for AIDS 2016, here are three ways that ViiV Healthcare is working to address the challenges of the HIV epidemic in sub-Saharan Africa:

We support research
Across Africa, we currently support – in the form of donation of medicines and/or funding – 29 investigator-initiated sponsored clinical studies, some of which have sites in other low and middle income countries as well. Overall, these involve approximately 28,900 patients.
Through our Positive Action for Adolescent programme, we are also funding the London School of Hygiene & Tropical Medicine (LSHTM)'s 'Healthy Adolescents & Young Adults (HAYA) Research' unit at the Africa Centre, located in the northern KwaZulu-Nata province in South Africa. The unit works towards building capacity at local level by training new recruits and adapting a short course on adolescent health in low- and middle-income countries. Research efforts have also been conducted to inform factors to take forward, to impact adolescent health policy at the local, provincial and national level.


In addition to this, we are also a founding partner to the Collaborative Initiative for Paediatric HIV Education and Research (CIPHER), a part of the International AIDS Society that looks to optimise clinical management and delivery of services to infants, children and adolescents affected by HIV in resource-limited settings through advocacy and research promotion. These efforts are also conducted in Africa.

We empower local communities
Through our Positive Action programme, we support more than 300 programmes at the local community level, of which more than 50% are in Africa.
These programmes give us the opportunity to seek out and build new connections and collaborations to help strengthen education, support services, local healthcare capacity and capabilities, and to reduce stigma and discrimination directed towards people living with HIV and AIDS across Africa.
Click here to read more about our Positive Action programmes. For people who will be in Durban during AIDS 2016, please visit our Networking Zone in the Global Village in booth #603. We have an exciting programme every day where our grantees will showcase their work.
We accelerate access to our HIV medicines
At ViiV Healthcare, we are committed to playing our part in addressing access to medicines challenges by taking an innovative, responsible, and sustainable approach in partnership with the HIV community, including patient organisations and governments.
Our access to medicines strategy covers all countries, taking into account the specific challenges faced in terms of epidemic burden and economic status, including all middle-income, low-income, least-developed and sub-Saharan countries (138 countries in total). We do this through a variety of approaches, based on the diverse needs of people living with HIV in different parts of the world