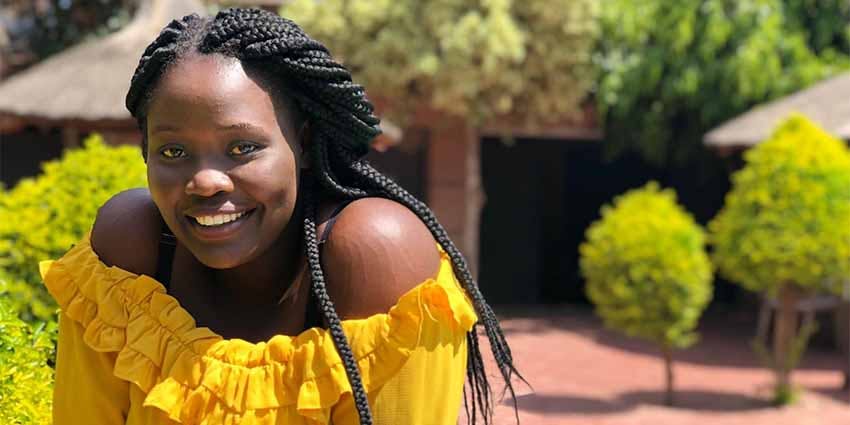 in collaboration with

Ensuring young women's and girls' voices have a meaningful voice at key decision-making forums, ViiV Healthcare's Positive Action is proud to work in collaboration with The Global Fund to fight AIDS, Tuberculosis and Malaria to support the HER Voice Fund 2.0.
About the HER Voice Fund
The Global Fund created the "HER Voice" Fund in recognition of the vital role adolescent girls and young women have to play in driving and shaping the HIV response. By providing small grants to AGYW-led community-based groups - logistical, administrative and language barriers to participation in decision making forums and processes can be overcome so that AGYW influence decision-making spaces.
ViiV Healthcare through its Positive Action programmes is taking the lead to drive community-led responses to HIV and empower AGYW and their communities to tackle the HIV epidemic. Addressing the epidemic amongst AGYW is a key objective of the Positive Action 2020 – 2030 strategy and remains a priority for ViiV Healthcare to ensure that no person living with HIV is left behind.
Request for Proposals - apply now!
ViiV Healthcare's Positive Action for Girls & Women and The Global Fund are now inviting potential implementing organisations to submit responses to our RFP to implement and develop the second phase of HER Voice; the HER Voice Fund 2.0.
The selected organisation will establish an Operations Unit (OU) to support the delivery of the following objectives:
Manage and channel small grants in an effective and cost- efficient way to selected small fund recipients in 13 focused countries: Botswana, Cameroon, Eswatini, Kenya, Lesotho, Malawi, Mozambique, Namibia, South Africa, Tanzania, Uganda, Zambia and Zimbabwe.
Increase meaningful engagement of AGYW in Global Fund and related country level processes and ensure that relevant policy and programmatic changes are made to meet the needs of AGYW and contribute to improving their health and well-being in the 13 priority countries.
Refine the HER Voice Fund investment strategy, funding model and M&E framework, managing and disbursing funds to support AGYW groups and community-based organisations working with/on AGYW issues to ensure meaningfully participation in Global Fund and related processes.
Manage and strengthen the HER Voice Ambassadors network and support capacity building and leadership development initiatives through creative partnerships and models.
Expected outcomes include:
AGYW actively participate in, and inform decision-making platforms at the community, facility and district levels relevant for their health outcomes.
AGYW inform the design, implementation, monitoring and evaluation of Global Fund supported AGYW programmes.
AGYW are meaningfully engaged and inform country national/sub-national policy reforms agenda, strategies and processes relevant for AGYW health.
OU establishes meaningful partnerships with relevant stakeholders at the country and regional level to ensure greater impact and sustainability of the Her Voice Fund 2.0 at national regional and global level.
Find out more and apply
You can find the full RFP here, which outlines details of the scope of work, the type of organisation we are looking for and requirements for responses. We aim to invest in strengthening civil society and community actors that are locally based and as such, preference will be given to civil society organisations based in Sub-Saharan Africa.
Applications close at 23:59 (UK Time) Sunday 15th September 2019.
Please send any enquiries to her.voice@viivhealthcare.com