TOWARDS A CURE: EXPLORING CURE AND REMISSION IN HIV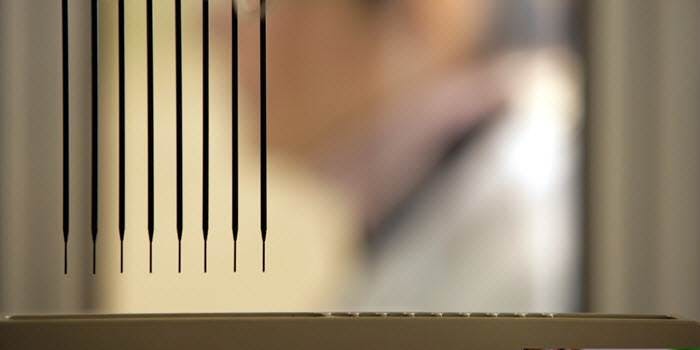 While there may be a lot of discussion about HIV remission and discovering a cure for HIV, the truth is that little is known about how to achieve either. However, an HIV 'cure', in the permanent sense, remains an overarching goal for the field. Jim Demarest, Global Lead HIV Remission/Cure gives his view.
What does cure and remission mean in HIV?
Broadly, this definition of cure is the complete eradication of HIV infected cells from the body[1] or the indefinite/permanent absence of plasma viral rebound after discontinuation of antiretroviral therapy (ART)[2]. In the relatively short history of HIV, from the days it was making daily media headlines in the 1980's, there have been few cases of remission in HIV and only one case of a person being reported as "cured" the "Berlin Patient," who remains HIV negative by all measures despite several years without ART.
The term 'remission', sometimes referred to as 'functional cure' or 'sustained virologic remission', is subject to some interpretation due to a lack of scientific consensus on the topic. As a clinical outcome, remission has been defined in cases where people living with HIV (PLHIV) have temporarily stopped ART and yet maintained low or undetectable levels of the virus for an extended period of time without adverse impact on their health or disease status[3].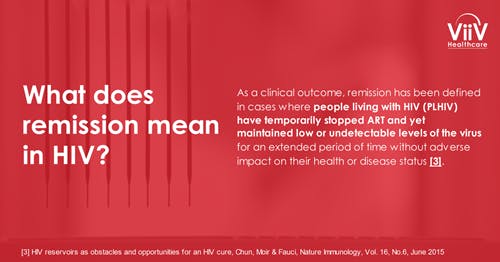 Mississippi Baby
One example of where this definition of remission has apparently been achieved is the widely publicized case of the 'Mississippi baby.' Born in 2010 to an HIV-positive mother, the Mississippi baby was treated with an antiretroviral regimen within 30 hours of birth and was thought to have achieved remission after her ART was interrupted at the age of 18 months. When mother and child returned to care after several months, the clinicians were amazed to find that the infant had maintained an undetectable viral load, despite receiving no treatment during the hiatus.
Over the next year the child underwent extensive testing, which found no HIV RNA in her blood plasma and no replication-competent (able to produce copies of itself) virus. The girl also had a normal CD4 cell count and no detectable HIV-specific antibodies. At the time, she was believed to be only the second known person to be functionally cured of HIV, after the so-called Berlin Patient. Unfortunately, by 2014, following 28 months of sustained remission without ART; the child experienced a viral rebound at age four and was put back on treatment. The girl was not cured.
The Boston Patients
A similar situation of two adult patients (aka "The Boston Patients") was reported in 2009. These two patients had undergone bone marrow transplants for non-AIDS malignancies and were HIV negative by well-accepted laboratory tests. Unfortunately for both patients, despite being considered HIV negative, when ART was stopped the virus rebounded in plasma and tissue compartments in less than a year.
What did we learn from the 'Mississippi baby' and Boston Patients?
First, the absence of detectable HIV in blood or tissue does not translate directly to HIV cure - as seen in the Berlin Patient.
Second, a delay in viral rebound (beyond the relatively rapid viral rebound observed in most patients who initiate ART during chronic HIV infection) may be achievable.
Third, there's a lot more work to do to understand if/how clinically relevant HIV remission and ultimately cure can be achieved more broadly.
For the Mississippi Baby, several questions remain that cannot be answered due to limitations in sample collection and the ethical limitations involved in doing so.
Nevertheless, the case shows that HIV establishes a 'viral reservoir' (the amount of virus and/or infected cells in blood and tissue) very soon after infection such that starting ART a day after birth was not enough to prevent a return of the virus in the long run.
Despite the fact there are few cases of cure or remission to point to, HIV scientists continue to work towards achieving both, with an emphasis on collaborating on strategies to achieve remission in children living with HIV.
[1] http://iasociety.org/Web/WebContent/File/HIV_Cure_Churchill_Canberra_Presentation.pdf
[2] HIV reservoirs as obstacles and opportunities for an HIV cure, Chun, Moir & Fauci, Nature Immunology, Vol. 16, No.6, June 2015
[3] Ibid
[4] Early-treated Perinatally HIV-infected Individuals: Improving Children's Actual Life