FAST TRACK CITIES: TACKLING HIV IN URBAN AREAS
A major step forward in the HIV response took place in Paris on World AIDS Day 2014 when city mayors from around the world put pen to paper on the Paris Declaration on Fast Track Cities.
That day, mayors from 27 cities signed up to accelerate their response to the HIV epidemic. Since then the Fast Track Cities initiative has grown to more than 300 cities1; uniting local governments, public health officials, medical professionals and civil societies from across six continents in a shared belief of the power of cities to drive mobilise the global response to the HIV epidemic.

Accelerating the HIV response through the Fast Track Cities Initiative
Upon endorsing the Paris Declaration on Fast Track Cities, each city committed:
To attain the UNAIDS' 90-90-90 targets
- Ensure that at least 90% of PLHIV know their status
- Improve sustained access to ART for diagnosed PLHIV to 90%
- Increase to 90% the proportion of PLHIV on ART with suppressed viral load
To increase utilization of combination HIV prevention services
To reduce to zero the negative impact of stigma and discrimination
To establish a common, web-based platform to facilitate the data transparency and to allow for real-time monitoring of progress (these have come to be known as Fast Track City dashboards – accessible here.)
But why the focus on cities?
Cities are where epidemics are driven. The 200 cities most affected by HIV account for more than a quarter of PLHIV worldwide. In some countries, more than a half of PLHIV live in cities. Fast-tracking HIV responses in urban areas is therefore crucial to ending the AIDS epidemic.
Transforming expectations of living with HIV
We are at an inflection point in the HIV response: we live in a time where we have the tools necessary to end epidemic HIV and AIDS once and for all. Indeed, while a number of jurisdictions have already attained the 90-90-90 targets, most have not. We face the reality of HIV slipping down government agendas, and a growing acceptance of the status quo among many healthcare providers and people living with HIV (PLHIV) that viral suppression is the 'end goal'.
Until the day we find a cure for HIV, we should also transform our expectations for people living with HIV and look beyond viral suppression and incorporate quality of life as a key aspect of the management of the virus..

When looking at quality of life, we must challenge ourselves to think more broadly about the concept of living well – or thriving - with HIV, factoring in elements such as:
- Physical well-being over a lifetime
- Emotional well-being and the impact of societal- and self-stigma
- Psychological well-being and peace of mind with a high level of treatment literacy
- The availability of open, honest conversations with HCPs
Surveys such as the Fast Track Cities Quality of Life survey, PozQol Survey or ViiV Healthcare's own Positive Perspectives survey seek to quantify, assess and track these metrics to dig deeper into the correlation between these factors.
Closing the gap through implementation science
With heightened expectations about life with HIV, also comes a higher bar in the implementation of HIV care. Enter HIV Implementation Science.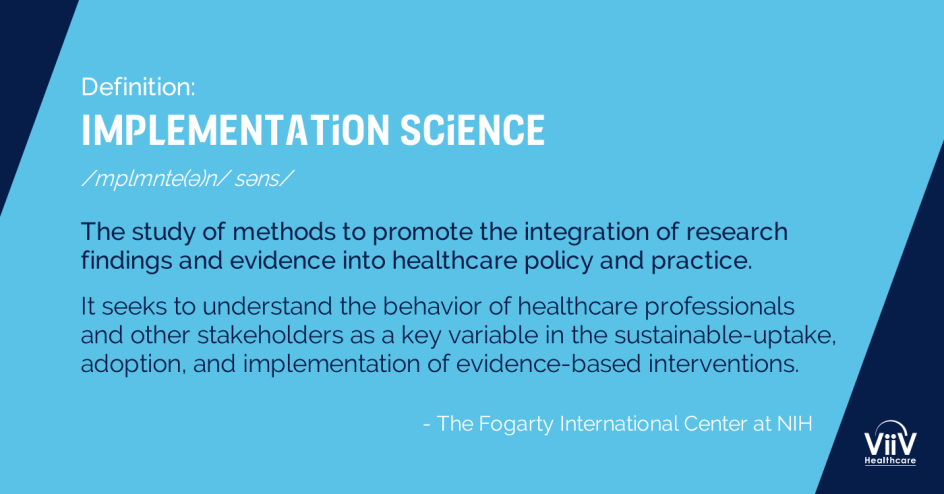 In supporting this growing area of focus for the HIV response, we're seeking to understand and assess the effectiveness of past interventions across different settings and key populations, so that we may better understand the facilitators and barriers to implementation and replicate successful interventions.
By pursuing better, more evidence-informed interventions, implementation science paves a path for a more targeted and tailored approach to help maximise HIV outcomes and quality of life for PLHIV.
The Fast Track Cities Initiative has been a brilliant mobilising force that has garnered global support since its inception in 2014, but as we sign on more and more cities; we must embrace an ever-increasing variety of communities – whilst also maintaining a laser focus on our objective and the reality that our work isn't over until new HIV infections are at zero.