IMPACT AND INSIGHTS – ViiV HEALTHCARE GLOBAL HIV AND COVID-19 COMMUNITY EMERGENCY RESPONSE FUND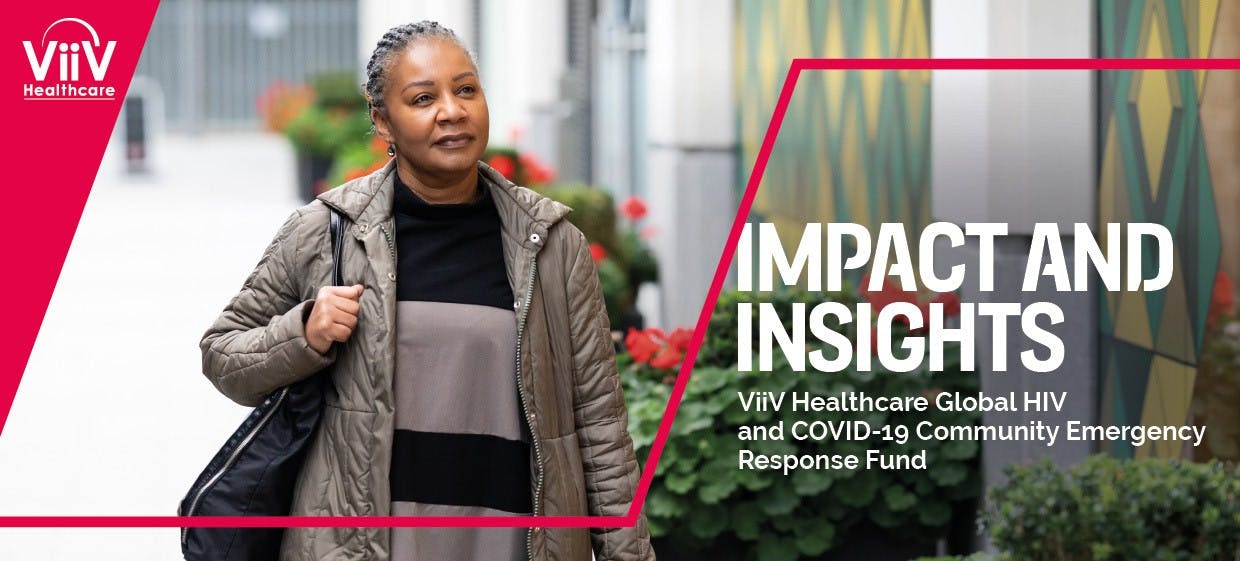 The COVID-19 pandemic has catapulted global public health into the spotlight, not unlike the way the HIV pandemic emerged in the 1980s. In order to preserve the remarkable progress made throughout four decades of the HIV response, we must prioritise HIV care and support on the public health agenda. Lockdowns, restricted movement, and business closures have posed universal challenges, but HIV communities also faced reduced access to antiretroviral (ARV) medicines and heightened stigma against marginalised LGBTI+ people1. The Global Fund to Fight HIV, Tuberculosis and Malaria 2020 survey, with results from projects across 106 countries, found that 85% of HIV programmes reported disruption to service delivery due to the COVID-19 pandemic.2 Furthermore, HIV prevention and services declined by 11%, while young people targeted with prevention programmes declined by 12%. HIV testing dropped by 22%, holding back treatment initiation in most countries.3
To support HIV communities in addressing these issues, the ViiV Healthcare Global HIV and COVID-19 Emergency Response Fund (ERF) was established on 27 April 2020, seven weeks after the World Health Organization (WHO) declared COVID-19 a pandemic.4 The £3 million fund was deployed in part to provide critical financial resources for research projects to study the medical and scientific impact COVID-19 is having on people living with HIV, alongside community-based grants to help address specific challenges in the HIV community, created by the pandemic.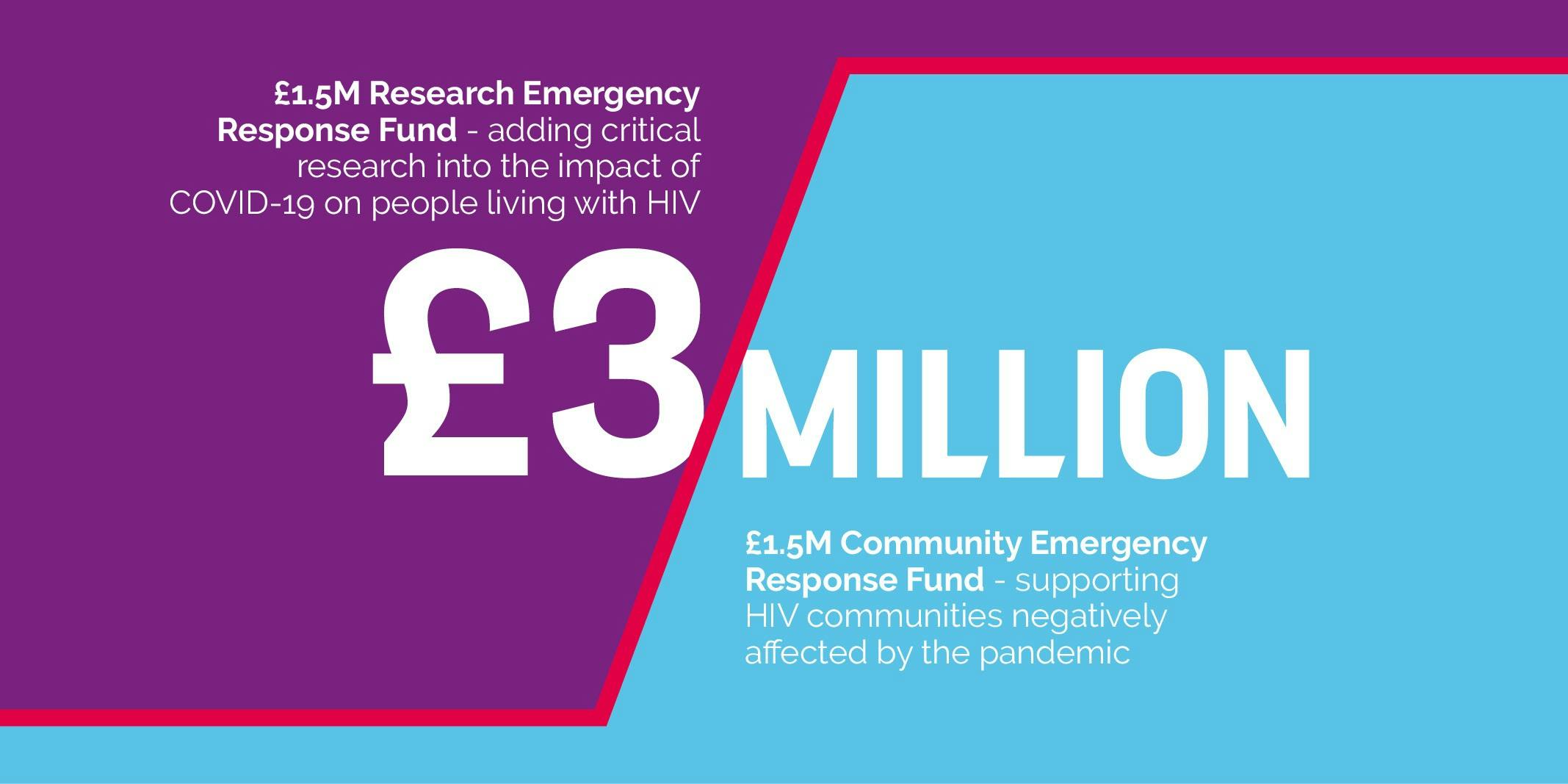 Community Emergency Response Fund
The Community Emergency Response Fund aimed to support communities affected by - or most at risk of - HIV to help mitigate the adverse threats and additional challenges faced because of COVID-19.


Hear from four grantees of the Community Response Fund discuss their experiences of the COVID-19 pandemic - The European AIDS Treatment Group (EATG), River House Trust, ADHARA and Single Step Foundation.
Insights and recommendations from grantees
We asked a few of the Community ERF grantees to share their insights and lessons learned to help other organisations looking to enhance services for people living with HIV. This is what they told us:

Flexibility and agility
Organisations have been very flexible and innovative in the way they work. For some, meetings have been conducted using easily recognised platforms such as WhatsApp but they noted that whilst online services worked well for those who had access to them (support groups, psychological support and consultations), they are no substitute for face-to-face interaction. For others, online services were limited as they did not have the right technology or devices to support access.

Many organisations used the Community Emergency Response Fund to fill in gaps in care caused by the impact of COVID-19. In many countries, the fund was a critical link for people living with HIV to access health facilities.

For people living with HIV, the burden of anxiety was elevated during the pandemic due to fear of missed appointments for refills. Organisations that were able to offer specialists services, such as a door-to-door medicine delivery service, reinforces the importance of supporting these types of critical initiatives.

Community models of service delivery
The use of community models to enable service delivery ensured continued access to HIV services. This has shown that it is possible to keep people living with HIV maintained on treatment even in emergency situations if community-based organisations are involved in the implementation of antiretroviral therapy (ART) delivery. Also evident in the community response, is the important role of health workers as part of the wider health system.
The power in partnerships to ensure continuity of services
Partnerships were essential to ensure continuity of services. By collaborating with national health systems and other partners community-based organisations, have been able to strengthen relationships and increase HIV testing rates, highlighting the benefit of on-the-ground groups to implement services and ensure support for those who need it.
The experiences shared by these organisations showed that the challenges and barriers to care are nothing new, especially in the case of key and priority populations. The pandemic just amplified the structural barriers that currently impact HIV communities. At ViiV Healthcare we remain committed to our mission of leaving no person living with HIV behind and will continue to work tirelessly to support the underserved communities living with or affected by HIV to help build a more equitable and healthier world.

Read more about how the COVID-19 pandemic has further exposed and exacerbated existing health disparities in both the US and UK in a recently released report from The Economist Intelligence Unit (EIU) sponsored by ViiV Healthcare: Achieving health equity: a roadmap to eliminating disparities.

If you get any side effects, talk to your doctor, pharmacist or nurse. This includes any possible side effects not listed in the package leaflet. You can also report side effects directly via the Yellow Card Scheme at www.mhra.gov.uk/yellowcard or search for MHRA Yellowcard in the Google Play or Apple App store. By reporting side effects, you can help provide more information on the safety of this medicine.
If you are from outside the UK, you can report adverse events to GSK/ViiV by selecting your region and market, here.