FACING THE CHALLENGES OF GETTING OLD WITH HIV
Advances in treatment have dramatically improved the life expectancy of people living with HIV (PLHIV), which is welcome progress. However, it comes with new medical challenges. By Dr Andrew Clark, Global Medical Lead, ViiV Healthcare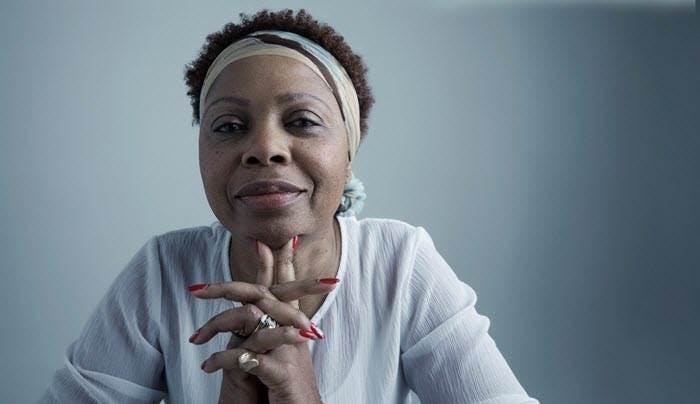 Today there are 4.2 million people aged 50 and older living with HIV; and every year, 120,000 people aged 50 and older acquire HIV.[1]
In higher-income countries, those aged 50 and older represent approximately 30% of the adult population living with HIV; and in low to middle-income countries this same age group accounts for 12% of all adult people living with HIV. [1]
By 2030, three out of every four patients are expected to be aged 50 years or older in many countries. More than 80% will have at least one age-related disease, such as cancer or arthritis, and approximately one third will have at least three of these age-related diseases.[2],[3]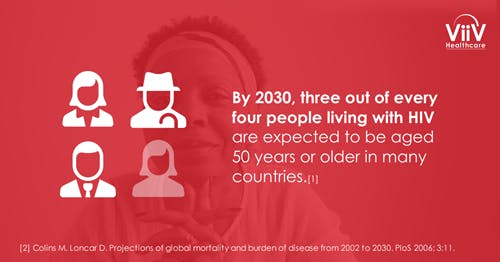 It's clear that there's an ever-growing need for specialised care for HIV and other chronic conditions associated with age for people living with HIV (PLHIV) who are 50 and older.[1]
It's important that as an HIV community, we begin to ask questions around how people are ageing with HIV; what the evolving role is for antiretroviral therapy (ART) and what the clinical challenges associated with people ageing with HIV are.
What does growing older with HIV mean for the optimal clinical management of PLHIV?
Studies consistently report a higher frequency of two or more chronic medical conditions in PLHIV compared to non-HIV infected individuals. This phenomenon has also been observed in people ageing with HIV rather than older people recently infected with HIV.[2],[4]
As we age, our immune system ages too, making it more difficult for the body to fight off infection. This age-related change is more pronounced in people with HIV and is likely related in part to the chronic inflammation caused by the disease, although what causes the inflammation.
Even if you're able to maintain viral suppression, chronic inflammation remains more likely among people living with HIV versus those without; and as yet, we are still to full understand the mechanism by which inflammation persists.
These issues have led to growing concern that PLHIV are more likely to experience age-related medical conditions. This emerging challenge is complex, and requires a revised approach to care of the older person with HIV.[5]
Adapting ART to this new challenge
Current and future novel ART is helping PLHIV to achieve a near-normal life span, however, long-term treated patients remain at a higher-than-expected risk of a number of complications typically associated with ageing.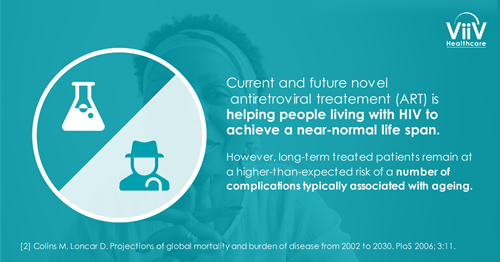 These can include cardiovascular disease, cancer, osteoporosis and other diseases in which the organs, such as the liver or kidney, are ultimately affected by chronic or progressive diseases.[6],[7] A better understanding of the process of how age impacts HIV, and how ART may influence this phenomenon, is an important piece of the puzzle that will help address these clinical issues. The ambition is for antiretroviral (ARV) drugs to have a good safety and tolerability profile, with limited organ-related toxicities and drug—to-drug interactions.
We must also understand the epidemic patterns of ageing HIV patients. Long-term follow up from large patient groups may help provide insights on care management and prevention.
Scientists are looking into multiple sources and studies to better understand ageing with HIV and explore the potential therapeutic treatments or inventions which could work hand in hand with antiretroviral therapy to improve outcomes for PLHIV.
What is being done to understand ageing in HIV?
Two studies, START[8] and TEMPRANO[9], clearly point out the clinical benefits of initiating ART as early as possible. Studies conducted in acute HIV-infected patients have shown that early treatment initiation limits size of viral reservoir, or amount of virus in the body, and provides better immune recovery.[10];[11]
However, sustained immune activation continues regardless of time of antiretroviral therapy initiation. Results from studies conducted in elite controllers – PLHIV who maintain an undetectable viral load and high CD4 counts without having to take ARV – consistently show higher immune activation and inflammation than in non-HIV individuals.[12] We do not know if early initiation of better-tolerated and safer ART will impact the profile of the medical conditions described in older PLHIV.
Mapping a new future in HIV
At ViiV Healthcare, we are committed to helping PLHIV live a long healthy life. We run and support a number of studies to build our understanding of how treatment affects people living with HIV who are older and to provide relevant data to address their clinical needs. For example, in a recent trial for one of our investigational medicines, at least 25% of HIV patients enrolled are aged 50 years and over. We also actively support and are involved in large observational groups in ageing HIV patients (cohorts such as POPPY and AgeHIV).
Our development programmes focus on generating meaningful data for new medicines and treatment strategies with the aim of reducing the short and long-term burden of ART on the lives of PLHIV. Meanwhile, through our involvement in a range of activities – from close engagement with patient organisations and support through several educational programmes and initiatives on ageing to data generation – we are working to help us understand the clinical, scientific and societal effects of HIV on ageing.
By collaborating with the HIV community, we are supporting efforts that improve the care and control of the epidemic, and help us to map a new future in HIV, leaving no patient behind.
[1] UNAIDS. The Gap Report. Available at: http://www.unaids.org/sites/default/files/media_asset/UNAIDS_Gap_report_en.pdf. Last accessed: Nov 2016
[2] Colins M, Loncar D. Projections of global mortality and burden of disease from 2002 to 2030. PloS 2006; 3:11.
[3] Smit M, Brinkman K, Geerlings S, et al. Future challenges for clinical care of an ageing population infected with HIV: a modelling study. Lancet Inf Dis 2015;15:810-18.
[4] Guaraldi G, Orlando G, Zona S, et al. Premature age-related comorbidities among HIV-infected persons compared with the general population. Clin Infect Dis 2011; 53:1120–1126.
[5] Hunt PW, Landay AL, Sinclair E, et al.: A low T regulatory cell response may contribute to both viral control and generalized immune activation in HIV controllers. PLoS One 2011;
[6] Gebo KA. Epidemiology of HIV and response to antiretroviral therapy in the middle aged and elderly. Aging Health 2008; 4: 615–27
[7] Nobili A. Multiple diseases and polypharmacy in the elderly: challenges for the internist of the third millennium. J Comorbidity 2011; 1:28–44.
[8] Lundgren J, Babiker AG, Neaton JD. Antirretroviral therapy in early HIV infection. N Engl J Med. 2016 Jan 28;374(4):394.
[9] The TEMPRANO ANRS 12136 Study Group. A trial of early antirretroviralsN Engl J Med. 2015 Aug 27;373(9):808-22.
[10]Williams JP, Hurst J, Stohr W, et al. HIV-1 DNA predicts disease progression and posttreatment virological control. eLife 2014; 3:e03821.
[11]Thornhill J, Inshaw J, Kaleebu P, et al. Brief Report. Enhanced normalisation of CD4/CD8 ratio with earlier antiretroviral therapy at primary HIV infection. J Acquir Immune Defic Syndr 2016; 73:69–73.
[12] Hunt P, Brenchley J, Sinclair E, et al. Relationship between T cell activation and CD4+ T cell count in HIV-seropositive individuals with undetectable plasma HIV RNA levels in the absence of therapy. J Infect Dis 2008; 197; 126-33.