In 2016, the Kaiser Family Foundation teamed with the UCSF Center of Excellence for Transgender Health to produce a video series that gives voice to transgender women about HIV. Empowered: Trans Women & HIV focuses on transgender women in relation to HIV risk, prevention and care.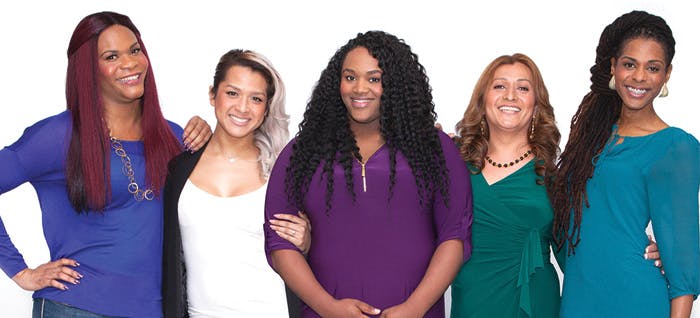 In 2016, the Kaiser Family Foundation teamed with the UCSF Center of Excellence for Transgender Health to produce a video series that gives voice to transgender women who share their own narrative about HIV, both in its impact and the responses needed. ViiV Healthcare's Positive Action Programme provided funding.
Presented as part of Greater Than AIDS, a leading national response to HIV/AIDS in the United States, Empowered: Trans Women & HIV brings greater understanding to the issues faced by transgender women in relation to HIV risk, prevention and care. Topics covered include health care needs and access, intimate relationships, mental health, employment, housing, violence, discrimination, and social stigma.
The campaign is designed to speak to transgender women themselves, as well as the health care providers and others who serve them.
Transgender women are among those at highest risk for HIV today.
The U.S. Centers for Disease Control and Prevention estimates that more than one in four transgender women – including more than half of Black transgender women – are living with HIV in the United States. Globally, the likelihood of contracting HIV is nearly 50 times higher for transgender women compared to other populations.
Despite growing attention to the issues facing the transgender community, HIV has not been widely discussed. Further outreach about HIV often excludes transgender women, or efforts aimed at other risk groups are merely adapted and don't respond adequately to the needs of the community.

Following a national search that drew more than 75 applicants, five transgender women from across the nation were selected to be featured in the campaign. They represent a diverse set of backgrounds and life experiences. Three are living with HIV and two are not.
Writer, researcher and activist JoAnne Keatley facilitated an intimate and inspiring conversation in which the women open up about challenging moments of diagnosis, disclosure, discrimination, and the loss of close friends, as well as the triumphs of finding gender-affirming health care providers, learning about PrEP and transitioning safely while on HIV treatment.
An interview with JoAnne Keatley
The discussion was edited into a 20-minute video with corresponding viewing guide designed to facilitate group screenings and discussions. A toolkit -- including brochures, posters, t-shirts, buttons, etc.-- was provided to support community outreach.
One-on-one interviews with the women provided more insights into their own life experiences. These profiles were used for targeted digital distribution and to promote informational resources about HIV prevention and care.
An interview with Victory
Launched in 2009, Greater Than AIDS is supported by a broad network of public and private sector partners, including major media and other business leaders, federal, state, and local health agencies, national leadership groups, AIDS service and other community organizations, and foundations, among others. The Kaiser Family Foundation gives strategic direction, provides day-to-day management, and produces the campaigns for Greater Than AIDS.
Through targeted media messages and community outreach, Greater Than AIDS and its partners work to increase knowledge and understanding and confront the stigma surrounding HIV/AIDS, while promoting actions to stem its spread. While national in scope, Greater Than AIDS focuses on the people and places most affected.
Empowered: Trans Women & HIV debuted in July 2016. Since the campaign's debut, targeted digital promotions, media coverage, conferences and partner events have generated significant visibility for the campaign among priority audiences, including transgender women, health care providers, and other service providers.
As of June 2017, the videos have been seen more than 2.2 million times on Facebook. There were another 162,208 views on YouTube amounting to more than 224,790 minutes of watch time. Additionally, Greater Than AIDS tracked more than 25,000 social media engagements (reactions, comments, shares, tagging) associated with campaign. Online informational resources for the campaign on greaterthan.org have been visited more than 210,000 times.
Community toolkits, including DVDs and USBs with discussion guides, informational materials, posters, buttons and other items, went to more than 600 organizations across the U.S. serving the transgender community.
Coverage by top media outlets, including Huffington Post, Mashable, Mic, Refinery 29, among others, reached a potential audience of more than 87 million people.
In addition to the U.S. release, the campaign was also prominently featured at the 2017 International AIDS Conference in Durban, South Africa, including during a pre-conference meeting specifically focused on transgender health topics. The campaign was screened and discussed on the main stage of the Global Village on opening day. There were additional workshops throughout the week where attendees from around the globe learned more about the issues raised in the campaign. A video highlights reel of the week is posted on the campaign's YouTube channel.
Empowered: Trans Women & HIV
Supported by Positive Action for MSM/T