ViiV HEALTHCARE TO HOST INAUGURAL IMPLEMENTATION SCIENCE NETWORK MEETING IN PARIS
Establishing a forum to advance collaboration, communication and shared expertise in Implementation Science.
ViiV Healthcare is excited to be hosting the inaugural Implementation Science Network at the IAS Conference in Paris next week.
A relatively new concept in HIV, Implementation Science is the study of the translation of research findings into practical applications, bridging the gap between research, policy and practice.
For the first time, Implementation Science has its own scientific track at IAS, and one of the conference's defined goals is to strengthen the Implementation Science research agenda to address key barriers and challenges across the HIV cascade.'[1]
ViiV Healthcare's work in Implementation Science
ViiVHC shares the view that in ensuring Implementation Science is deployed across the care continuum, it will help address the substantial gaps that remain. We believe that by developing effective strategies which support the delivery of HIV management and care in real world settings, we can help accelerate the UNAIDS 90-90-90 targets and the ambition of achieving an AIDS free generation by 2030.
Rooted in Implementation Science, our Positive Pathways programme aims to assess the effectiveness of HIV interventions in order to develop robust, evidence-based solutions to improve these interventions, from prior to diagnosis all the way through to delivering the best possible quality of life for people living with HIV (PLHIV).
ViiVHC has so far collaborated with eight established HIV centres to identify 21 evidence-based interventions that help deliver excellence in HIV care.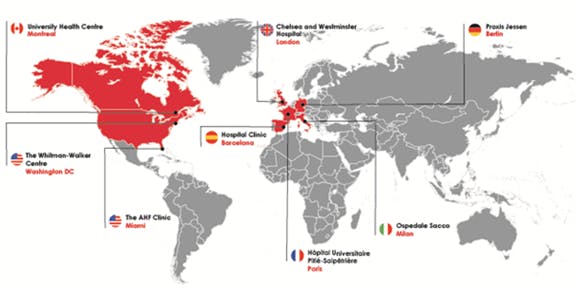 Members of the ViiVHC Positive Pathways programme will be presenting their implementation science studies at the Implementation Science Network meeting.
ViiVHC host the inaugural Implementation Science Network meeting
On the 23rd July, the day before the IAS Congress begins, ViiVHC are hosting our inaugural Implementation Science Network meeting. It will bring together those most interested in Implementation Science, to discuss key learnings, raise awareness and create a sense of urgency about its importance in the field of HIV. The collective expertise will provide a forum for HIV evidence generation and dissemination of knowledge. At the meeting, attendees will also look into continued resources and education for the advancement of capabilities in HIV Implementation Science.
Anna Lawson, Director, Global Strategic Projects, ViiVHC said, "With the formation of the Implementation Science Network, together with the outputs from Positive Pathways Programme, ViiVHC is providing a platform for all HIV stakeholders to increase knowledge and expand the use of Implementation Science strategies. HIV centres in different settings, across the globe, will discuss how applying evidence based interventions to address the gaps across the care continuum can make strides towards the UNAIDS 90 90 90 targets."
Andrew Zolopa, Medical Head of ViiV Healthcare US, discusses ViiVHC's role in the growing importance of implementation science in HIV
"I do believe that our partners in HIV see ViiV Healthcare as a full partner in this endeavour - that we shouldn't be shy about getting involved in implementation."
David Hardy, Senior Director of Evidence-Based Practices, Whitman-Walker Health said, "I believe Positive Pathways is an important program because it is attempting to create what we would call a 'best practices in HIV care', one that would really utilise and highlight what several well-known practice clinics are doing to improve HIV care in the US and around the world today."

Tristan Barber, Consultant Physician in HIV & Sexual Health at Chelsea and Westminster Hospital, London, talking about how effective interventions can move us towards the 90-90-90 UNAIDS goals
"Not only are we seeing a benefit for individual patients with earlier treatment - keeping people well for longer, but we are also seeing an impact on onward transmission rates with lower transmission rates of HIV and lower diagnosis rates in London."