A look back at the Pride movement this year and our support for MSM & transgender people around the globe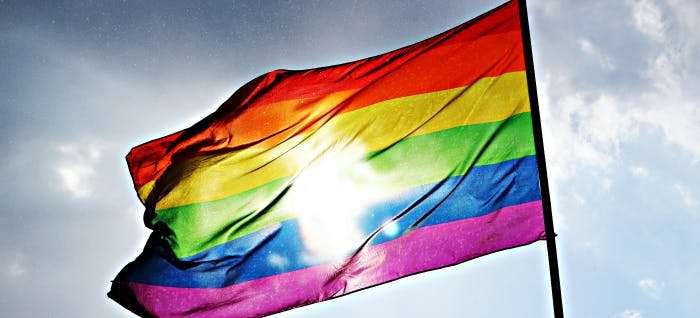 Perhaps the sharpest image in the minds of most when thinking of Pride, the annual series of celebrations of the LGBT community, is the welcome sight of colourful congregations under rainbow flags and banners.
From the well-dressed father walking through the streets of New York in 1974 carrying a sign that read 'I'm proud of my gay son' to the newlywed young women walking hand-in-hand through London in 2017, there is a wonderful diversity not just to Pride itself but to its personal significance for those participating.
To some, it is a chance to revel with friends and family, old and new; to others, it embodies solidarity and champions inclusivity. For some, it is not what it once was; to others, it is more important than ever. Partygoers and protesters side-by-side – some dancing in the streets to celebrate the progress made towards equality, others marching on. Whilst the motivations and messages of Pride's many participants are numerous, their unifying tone is one of positivity and hope.
In parts of the world that remain hostile to LGBT people, the sense of hope that Pride offers can be profound. Whilst these events tend to be more private and smaller in scale, they nonetheless can offer a reprieve, a welcome relief from the entrenched realities of what it means to be LGBT. Concurrently, Pride here conveys something powerful to those observing. It is a proxy for progress.
"Pride in Uganda is a celebration of defiance, love, and existence. It is about the need to embrace the diversity that comes with humanity, and it can change the narrative about LGBT persons, by telling their true stories, their own way."
Joaninne Nanyange, Human Rights Awareness & Promotion Forum (HRAPF), Uganda

Progress, of course, is rarely linear. In Uganda for example, despite interruption of the country's first Pride events in 2012, low profile events have largely been permitted since that time. All too often, Pride events are wholly absent however. This year, Pride was cancelled under the threat of arrest and risk of violence.[1]
In Jamaica, against the odds, Pride is continuing to flourish. First held in 2015, PRIDE JA is a series of activities hosted by J-FLAG, a leading human rights organisation and grantee of ViiV Healthcare's Positive Action Programme for men who have sex with men (MSM) & Transgender People.
"Pride in Jamaica is all about possibilities. It is a rainbow revolution that allows LGBT people and allies to come together as a community. It is a movement – courageously working to ensure all are fully included and celebrated."
Jaevion Nelson, J-FLAG, Jamaica

Our Programme supports community-led initiatives that promote sexual health & wellbeing and advance social justice for MSM and transgender people affected by HIV and AIDS in the world's most resource-limited and hostile settings for LGBT people.
In August 2017, our Community Review Board met to review applications to the Programme in Kingston, Jamaica, awarding 21 new small grants from countries as diverse as Zimbabwe, Jamaica, Turkey and Nepal; 15 led by and focused on MSM, six led by and focused on transgender people. These projects focus on a range of issues – from the economic empowerment of men who have sex with men in Malawi, to a project strengthening advocacy efforts for transgender people in Laos.

We are proud that our company, through our focus on addressing the HIV epidemic, not only supports but is an ally to LGBT communities around the world.

Reference:
[1] http://www.pinknews.co.uk/2017/08/17/uganda-pride-cancelled-amid-threats-police-arrest-and-physical-harm/. [last accessed 21 Sept 2017}