HOW ViiV HEALTHCARE IS HELPING TO ACCELERATE CITY HIV/AIDS RESPONSES THROUGH OUR COLLABORATION WITH THE INTERNATIONAL ASSOCIATION FOR THE PROVIDERS OF AIDS CARE
Read about how ViiV Healthcare is helping to accelerate local AIDS responses through our collaboration with IAPAC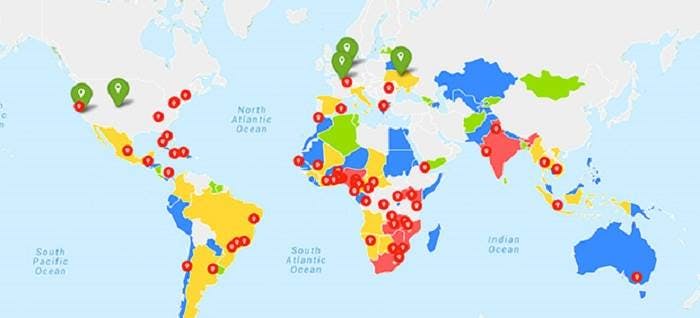 Michele Robbins, Senior Director, Global Strategic Initiatives, ViiV Healthcare


Collaboration drives us. It inspires us to do more and it encourages us to do better. As an organisation who was established through an innovative collaboration, we believe it allows us to achieve better global outcomes and impact the >37million people [1] around the world who are living with HIV.
When we announced earlier this year that we would be collaborating with the IAPAC to support their Fast-Track Cities, we saw it as an opportunity to play our part in helping to achieve global outcomes at a grassroots level.
Read our press release: https://www.viivhealthcare.com/media/press-releases/2016/may/viiv-healthcare-and-the-international-association-of-providers-of-aids-care-to-collaborate-on-fast-track-cities.aspx
Today, we moved into the next phase of this programme as we announced our first Fast-Track Cities milestone – the launch of the Fast-Track Cities dashboard in four cities: Amsterdam, Denver, Paris and San Francisco. In only a few short months, we have seen tremendous progress and to be delivering the first dashboards, as well as a symposium at AIDS 2016, is a great achievement for everyone involved.
These web-based dashboards will help city-wide stakeholders and the public health community to both measure , monitor and provide feedback on progress made towards attaining the UNAIDS 90-90-90[2] and zero discrimination and stigma targets. The dashboards also allow participating cities to see the continuing progress made and strategies deployed in the other cities, and to directly connect with each other through a global Fast-Track Cities web portal, into which all city dashboards connect.
Why cities?
Urban areas have a hugely important role in ending the AIDS epidemic by 2030. According to the UNAIDS 'OUTLOOK: cities' report, cities and urban areas are particularly affected by HIV, with the 200 cities most affected by the epidemic estimated to account for more than a quarter of the 37 million people living with HIV around the world. According to the report, more than half the world's population lives in cities, with the proportion set to grow to 60% by 2050. The vast majority of megacities, defined as having populations of more than 10 million people, will be in low- and middle-income countries. Fast-tracking HIV responses in cities — without neglecting efforts in rural and other areas — will therefore be crucial to ending the AIDS epidemic.1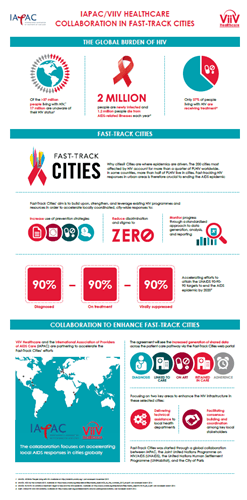 We are thrilled to be part of this collaboration as urban areas are central to the response of the epidemic. By doing so, we are practically making an impact on the UNAIDS 90-90-90 through 'implementation science' to help us to map a new future in HIV.
[1] UNAIDS. The City Report: http://www.unaids.org/sites/default/files/media_asset/JC2687_TheCitiesReport_en.pdf. Last Accessed: 05 July 2016
[2] UNAIDS 90-90-90 is an ambitious treatment target to help end AIDS as a public health threat by 2030. Interim targets by 2020 include ensuring that 90% of all PLHIV will know their HIV status. By 2020, 90% of all people with diagnosed HIV infection will receive sustained antiretroviral therapy. By 2020, 90% of all people receiving antiretroviral therapy will have viral suppression.