HOW OUR INNOVATION UNIT IS ADDRESSING NEW AREAS OF NEED IN HIV CARE
ViiV Healthcare's innovation unit is collaborating to design ideal care pathways for virally stable HIV patients
In April 2015, ViiV Healthcare established a specialist innovation unit—the hive—to identify unmet needs that go "beyond the pill." Intended for people living with HIV, their caregivers and HCPs, the hive was created to look for innovative, usually tech-enabled, solutions to address these unmet needs.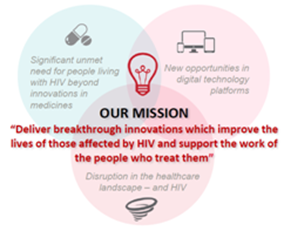 So how does the hive work to deliver breakthrough innovations to improve the lives of people living with HIV? The unit adopts a 'sprint model'- which works by creating teams of entrepreneurs, designers and healthcare consultants who work in fast, iterative cycles usually lasting 12 to 15 weeks to ideate, prototype and test a minimum viable prototype, addressing the challenges that ViiV Healthcare identifies. Various healthcare start-ups and strategic partners can also be brought in to knowledge-share around a solution. The model is an effective way to test fundamental assumptions and to enable fast development of ideas.
Throughout 2016, the hive ran 14 sprints on a wide range of issues in HIV, seven of which are due to be progressed with further investment to launch.
Dr Thom Van Every, Executive Director of the hive comments "During our initial sprints we uncovered two major emerging themes within HIV: the need for peer support and the growing importance of self-testing where someone can test for HIV infection in the privacy of their own home. We have focused a lot of efforts on addressing these themes and the challenges that arise from them through our projects"
To facilitate peer support, the hive is looking at the viability of an app for connecting people living with HIV to matched mentors via an anonymous chat.
To support HIV testing, the teams are developing a self-sampling service and encouraging testing for key populations through targeted activities in different countries and using online solutions to help newly diagnosed to connect into care.
ViiV Healthcare is committed to improving the lives of people living with HIV beyond our medicines. Delivering breakthrough innovations through collaborations is key to our culture and an important part of our mission to leave no patient behind.
If you have an idea for an innovation project or a potential partnership, the hive would love to hear from you. Please reach out to hive@viivhealthcare.com.
Related articles: