ACCELERATING THE PACE OF INNOVATION
Meet the team taking a new approach to advancing HIV science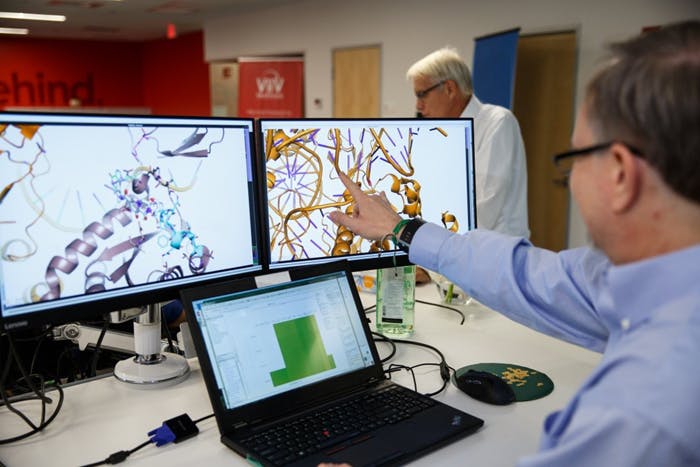 It can take up to 15 years for a treatment that has been in development to make its way to patients
Identifying, creating and developing a drug is a complex and rigorous scientific process that takes three steps: discovery, development and clinical trials.
The good news is that we're making every effort to shorten that time by getting our teams to work closely together in the same place. Our research facility in Branford, Connecticut houses 30 HIV specialists who work as one team at every stage of the drug development process. Their roles range from investigating the live HIV virus to better understanding how it replicates to how its cycle can be stopped.
What they do is put together new molecules that will be developed through specific clinical trials into potential new HIV treatments for people living with HIV (PLHIV).
These are pretty well known as stages in the drug development industry, but we like to do things differently at ViiV Healthcare; we take advantage of the fact that our scientists are all working in the same facility.
Designing new molecules to treat PLHIV
John Kadow, our Senior Director of Medicinal Chemistry works with a number of specialists, including biologists, virologists and chemists to toxicologists and pharmacokinetic scientists, when designing new molecules.
When our specialists are developing a drug, as John mentions, we need to begin with a "starting point". This will often happen with the identification of a possible target for a drug to act upon. This could, for example, be against a specific stage in the replication of the virus or when it infects other healthy cells.
Our team uses computer modelling, existing literature and ongoing screening of the virus to identify a few promising compounds. Once the target is identified and validated, the search to find entities that can have an effect on it then begins. John's description of this "iterative process" is exactly that; this is not an exact science and involves trial and error using different techniques and studies to develop a compound that works well against a target.
It's not always easy here. Chemists may develop a compound that performs well against the virus but they may also find that its properties are too toxic. Reducing the toxicity of HIV treatments has been a long-term focus for ViiV Healthcare, particularly as modern antiretroviral treatments (ART) have enabled PLHIV to live longer.
At the point researchers identify a compound which they believe is viable from a safety and efficacy perspective; there are still several years of vigorous testing to go, involving both in vitro (Latin for 'within glass') and in vivo (Latin for 'in the living) experiments, before it can even be considered for approval for human use. From here, the baton is passed on to the clinical development team. But not quite...
Developing innovative drugs faster
Why are our single-minded specialists at Branford so unique?
"What we have at Branford is a building where discovery and early development scientists are working side by side, very closely together. This interplay is unique. We are able to talk each other's language and develop drugs that are innovative in a faster, more efficient manner".
Max Lataillade, Head of Clinical Development at ViiV Healthcare
Max Lataillade, Head of Clinical Development at ViiV Healthcare, outlines the clinical development process:

Throughout development, medicines undergo a process divided into at least three different testing phases.
Initially, the clinical development team focuses much of its work on ensuring that the new asset or compound is ready to be tested in humans for the first time, known as phase I or First Time in Human (FTIH) testing. The next stage, phase II, includes further testing on a larger group of patients (HIV patients in this case) to determine its efficacy and any potential side effects. Finally, phase III sees the medicine trialled in a much larger patient population to further assess efficacy and monitor adverse reactions before the product is submitted for registration to the regulatory authorities.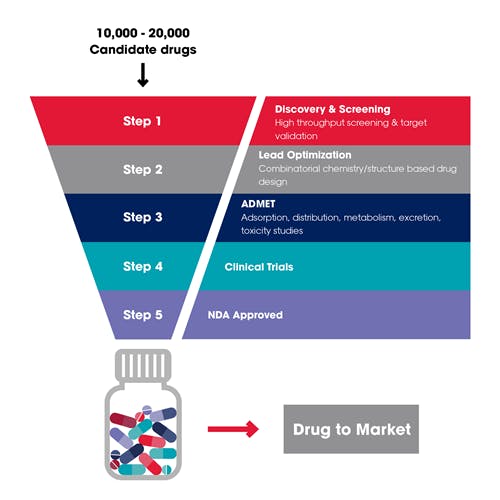 How do drugs get to market?
Should the medicine be approved for use by patients, the clinical development team may additionally conduct further phase IV study (ies), during which people are monitored to ensure the continuing safety and efficacy of the drug.
The clinical development phase is complex, and may take many years, but the impact new medicines can have on PLHIV can be life changing. At ViiV Healthcare, we are continuously working to deliver new medicines to address the many medical challenges that remain for PLHIV.