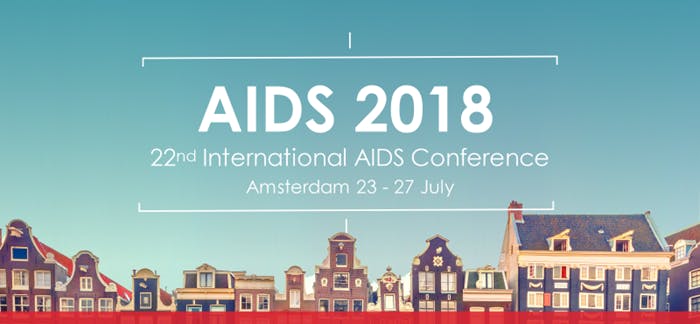 On Monday 23rd July the 22nd International AIDS Conference kicks off in Amsterdam. As a global specialist company 100% dedicated to HIV – ViiV Healthcare will be there to present important new data, engage in debate and play our part in connecting with, supporting and better understanding the global HIV community, of which we are proud to be a part of.
Throughout the week, our team will be participating in a number of panels and presentation. Below, we highlight a few of the key activities we are hosting during the conference.

Satellite Symposia: Perspectives on the HIV Treatment Landscape
Thursday, 26th July, 18:30PM – 20:30PM – Elicium 2, RAI Amsterdam Convention Centre
During the conference, we'll be hosting a scientific exchange that looks at Perspectives on the HIV Treatment Landscape, exploring in detail topics around the antiretroviral regimen design, the impact of long-term ART and challenges to implementation.
The session will be led by Dr Michael Aboud, VP & Global Medical Lead for ViiV Healthcare; with Dr Jose Arribas, Professor Chloe Orkin and Professor Pedro Cahn joining as part of the expert international faculty.
Please note, only healthcare professionals will be able to attend this event.

Satellite Symposia: Times Are Changing: Rethinking Viral Suppression
Thursday, 26th July, 07:30AM – 08:30AM – Elicium 1, RAI Amsterdam Convention Centre
Our satellite symposia, Times are Changing will be rethinking the concept of viral suppression, to challenge industry norms and encourage debate so we can better understand the interests, concerns and questions from healthcare professionals.
Please note, only healthcare professionals will be able to attend this event.

MISSION Meeting: Address gaps in the HIV Care Continuum
Sunday 22nd July, 08:45AM – 17:00PM – Emerald Room, RAI Amsterdam Convention Centre
Our Pre-Conference Workshop will focus on how implementation science can help clinicians design and assess interventions that improve results and outcomes for the people they reach. We'll be inviting top experts in the field to present, answer questions and network with peers in the HIV community who are using implementation science strategies to optimise their programmes and services.
You can find the full agenda and sign up to attend here.

Global Village
Sessions will be run throughout the week at the Positive Action Networking Zone in the Global Village
Created in 1992, Positive Action was the first pharmaceutical company programme to support communities affected by HIV and AIDS. 26 years later, we are thrilled to be presenting our most comprehensive programme to date – packed full of large events and small, focussed workshops – all designed to work alongside communities to combat the stigma and discrimination associated with HIV.

Follow us on Facebook, Twitter and LinkedIn
As usual, we'll be attending the event to share updates and key information direct from Amsterdam.
You can keep up to date by following us on Twitter, Facebook or LinkedIn.