HOW DO YOU SPELL THE NEXT GENERATION OF HIV TREATMENTS? COULD IT BE BNAB?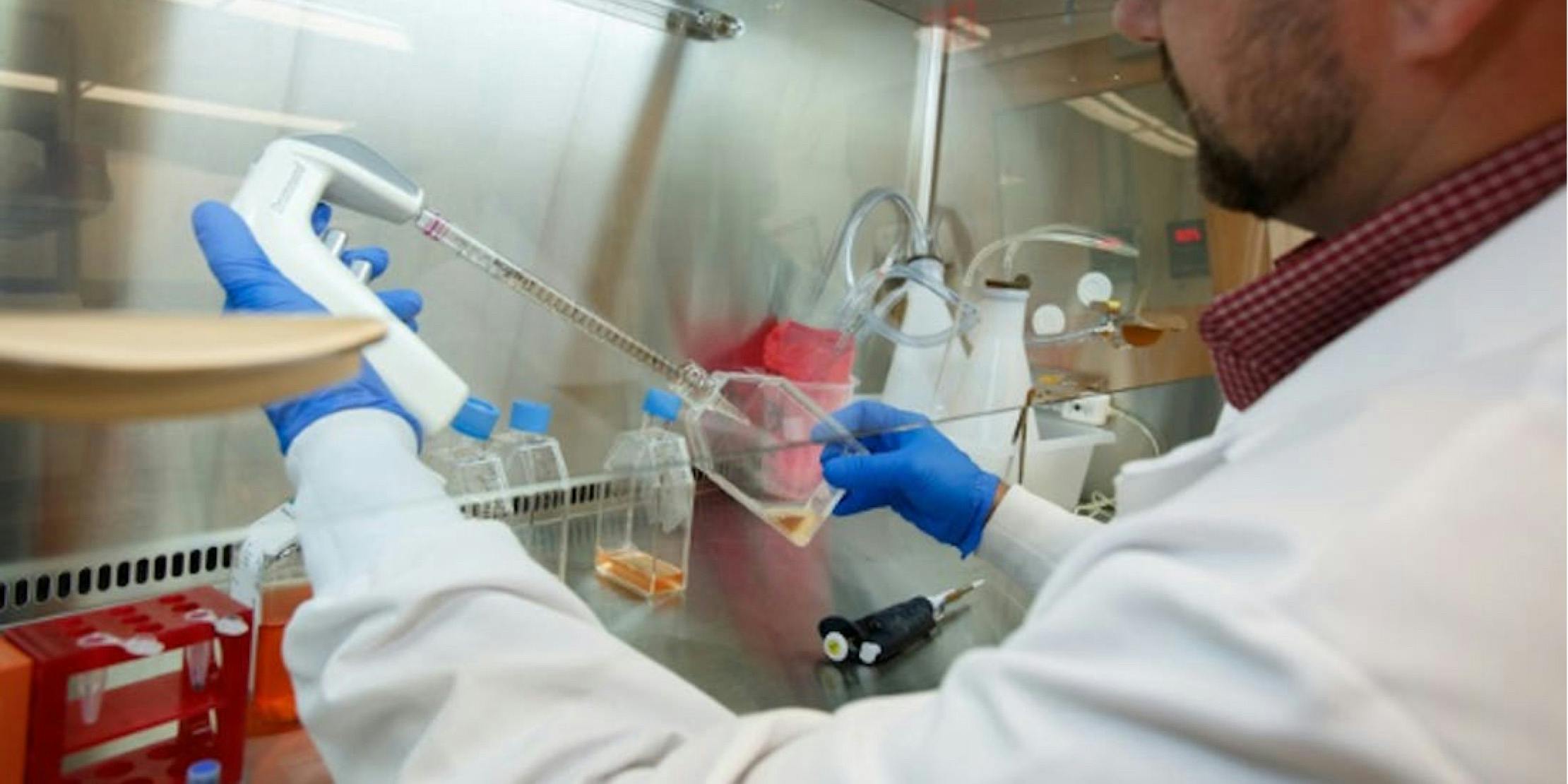 Breakthroughs in HIV science have led to improvements in the efficacy of today's HIV treatments.
Some newer antiretrovirals (ARVs) have a reduced risk of contributing to certain long-term health issues and this has, in turn, made it easier for people to take their HIV medicines over a long period of time. In addition to more effective treatments, some advances in the science even have the potential to help reduce stigma and discrimination currently faced by people living with HIV.1
While we've come a long way since the early days of HIV treatment, challenges persist in our fight to end the HIV epidemic and we are still searching for a cure. Given that an HIV diagnosis can mean a lifetime of treatment and stigma, we know that more needs to be done to make HIV a smaller part of peoples' lives. An exciting and relatively new area of research in the development of next generation HIV treatments involves broadly neutralising antibodies (bNAbs) which pose a potential dual threat to HIV. First, bNAbs could be used in the treatment of HIV by preventing the virus from entering the target cells and secondly the bNAb has the potential to enhance the person's immune system for a cure and remission strategy.
What are neutralising antibodies and why are they unique?
Antibodies play a critical role in the immune system's defence against infection and disease. Broadly neutralising antibodies (bNAbs) are a type of antibody that can recognise and block the entry of a broad range of different strains of HIV into healthy cells. Research indicates that bNAbs may also activate other immune cells to help destroy HIV-infected cells. This means that bNAbs can have dual action capabilities within HIV treatment and prevention, because of their ability to target HIV infected cells while also inhibiting cell-cell-free virus transmission,2 something current treatments do not offer.
At ViiV Healthcare, we are exploring how bNAbs could offer the same level of efficacy, safety and tolerability as antiretrovirals, but can also provide added benefits, such as their unique ability to target dormant HIV, latent viruses that are essentially 'hiding' within human cells (CD4+ T cells), that can re-emerge when antiretroviral therapy is stopped.
"By involving bNAbs in our research, we are transforming and evolving strategies with the aim of creating additional treatment options for people living with HIV."
How do bNAbs fit in to our treatment strategy?
As part of our commitment to developing innovative new therapies that can offer people living with HIV a wider range of treatment options, ViiV Healthcare announced the development of the investigational bNAbs N6LS for the treatment and prevention of HIV-1, as part of an exclusive licensing agreement between GSK/ViiV and the Vaccine Research Center (VRC)/ National Institute of Allergy and Infectious Diseases (NIAID), part of the National Institutes of Health (NIH). This research focuses on blocking HIV's entry into human CD4+ cells, which is a key step in the HIV replication cycle.
Our first approach is to evaluate the antiviral activity of N6LS alone in people living with HIV and then combine with other regimens in future.
"At ViiV Healthcare, we are exploring the role bNAbs can play in two key areas; identifying the next generation of long-acting HIV treatments, and our work in HIV cure and remission."
At our dedicated HIV research facility in Branford, Connecticut, USA, we're striving to develop long-acting treatments with new delivery methods, aimed at providing convenience, and enhancing adherence for people living with HIV. As we embark on this new avenue of long-acting therapy and research into the next generation of HIV medicines, the inclusion of bNAbs allows us to explore the additional benefits they may offer.
The second approach in to the use of bNAbs is within our cure and remission strategy. The concept Induce, Reduce and Enhance is a strategy which is focused on identifying dormant HIV that may be hiding in human cells undetected by the immune system over prolonged periods of time while virus replication is suppressed through antiretroviral (ARV) therapy. Once identified, we drive this reservoir out of hiding (Induce) so that it can be eliminated (Reduce).
New pioneering research on the Induce strategy was published in the journal Nature. This collaborative research, conducted by ViiV Healthcare, the Cure Center at the University of North Carolina at Chapel Hill and Emory University, summarised a scientific breakthrough in our efforts to bring HIV out of hiding. For the first time, using a class of drugs new to the HIV field, a signalling pathway in cells was activated that could induce the hidden HIV to reactivate and become visible, while having relatively few other unwanted effects on the cells (in vitro/animal studies). Once virus release is induced, these cells become visible to the immune system and could be eliminated if specific anti-HIV immune responses can be generated. Although in early stages, our Reduce strategy is where the bNAbs comes in. Studies have shown that certain bNAbs hold a 'reservoir reduction capacity', meaning that they possess the potential to help kill the hidden virus in cells, which is a sharp contrast to the drug regimens currently being used to treat HIV. Moreover, bnAbs have been reported to have a "vaccinal effect" which can generate T cell mediated antiviral immune responses which will kill infected cells in individual cases. This goes well along with efforts on therapeutic vaccines as part of our Enhance strategy with the goal to harness the body's own immune responses against rebounding virus from latent reservoirs. Reducing or eliminating latently infected HIV cells or reservoirs is seen as the most significant barrier to discovering a cure for HIV.
With that in mind, our goal is clear; to create further treatment options for people living with HIV and ultimately, end the HIV epidemic. Our scientists are continually looking for new ways to deliver the best treatment options for people living with HIV and, despite their complexities, are excited at the prospect of involving broadly neutralising antibodies within our discovery pipeline and HIV research moving forward.
References:
Zuch, M., Lurie, M. 'A Virus and Nothing Else': the Effect of ART on HIV-Related Stigma in Rural South Africa. AIDS Behav 16, 564–570 (2012). https://doi.org/10.1007/s10461-011-0089-6
Kumar R, Qureshi H, Deshpande S, Bhattacharya J. Broadly neutralizing antibodies in HIV-1 treatment and prevention. The Adv Vaccines Immunotherapy. 2018;6(4):61–68.
AIDSinfo. 2020. Broadly Neutralizing Antibodies (bNAbs) | Definition | AIDSinfo. [ONLINE] Available at: https://aidsinfo.nih.gov/understanding-hiv-aids/glossary/4674/broadly-neutralizing-antibodies. [Accessed 25 March 2020].
If you get any side effects, talk to your doctor, pharmacist or nurse. This includes any possible side effects not listed in the package leaflet. You can also report side effects directly via the Yellow Card Scheme at www.mhra.gov.uk/yellowcard or search for MHRA Yellowcard in the Google Play or Apple App store. By reporting side effects, you can help provide more information on the safety of this medicine.
If you are from outside the UK, you can report adverse events to GSK/ViiV by selecting your region and market, here.