U = U CONVERSATIONS MAY IMPROVE HEALTH OUTCOMES
Multiple self-reported benefits associated with U=U discussions
Reporting being aware and informed of U=U by HCPs was associated with self-reported viral suppression as well as self-reported optimal overall health, mental health, physical health and sexual health.7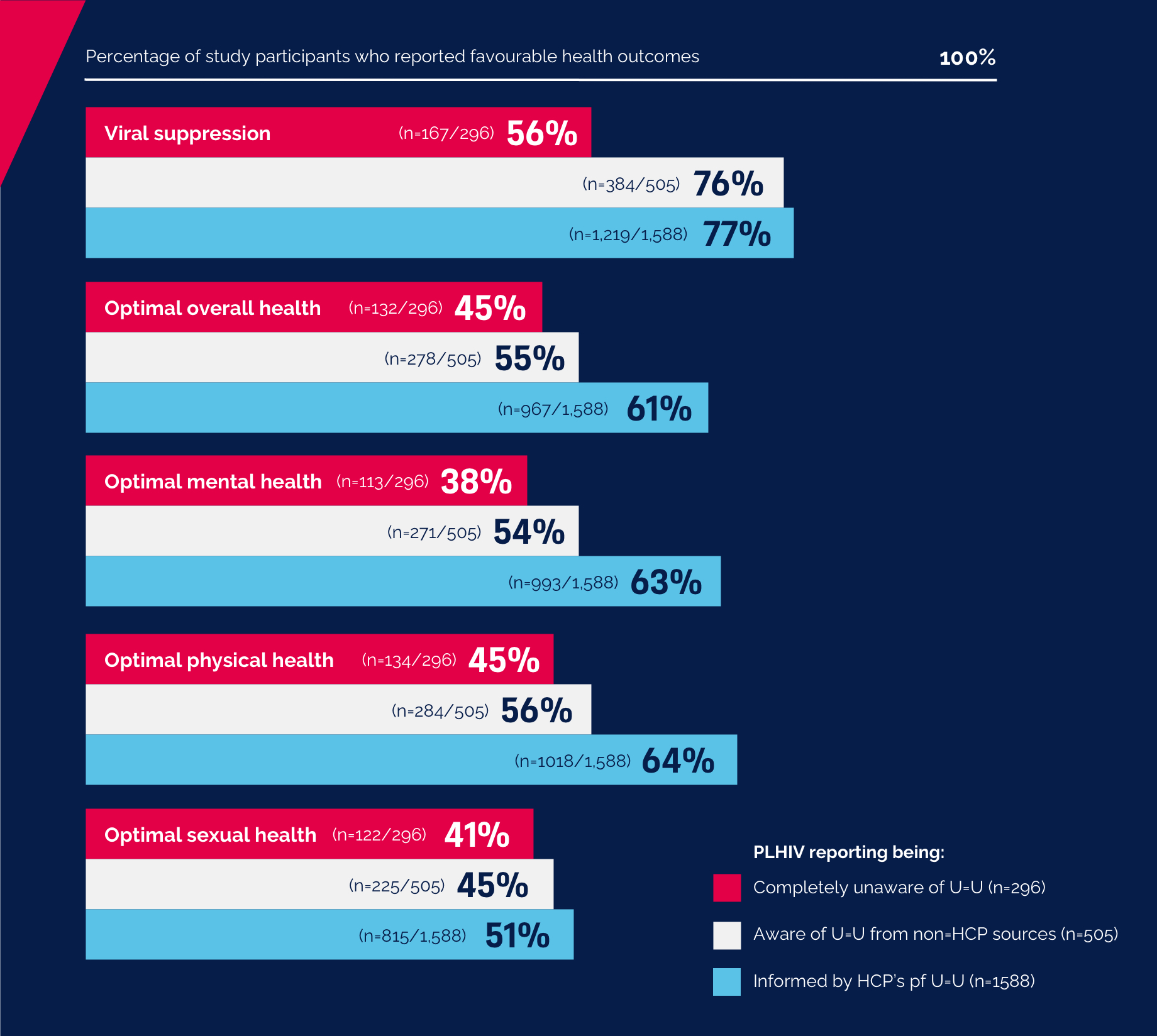 All differences statistically significant at p < 0.001
One of the most striking differences in levels of awareness of U=U was between men who have sex with men (MSM) and men who have sex with women (MSW). Seventy one percent of MSM (n=718/1018) reported being informed about U=U by their HCPs versus 58% of MSW (n=276/479). Considering the increased odds of self-reported viral suppression amongst those who reported being informed of U=U by their HCPs, this finding has an important bearing for women as sexual partners.7
Awareness of U=U also varied between countries, ranging as high as 87% of study participants in Switzerland (n=48/55), to 38% of study participants in South Korea (n=19/50).7
"As HCPs, we work for decades to improve adherence and viral suppression with many treatments. What was surprising from the Positive Perspectives data was that people living with HIV who had reported having conversations with their HCPs about U=U were more likely to report viral suppression than those who had not."
U=U is a vital tool in the healthcare provider's toolkit and should be considered as a standard of care in clinical guidelines
Conversations about U=U may help PLHIV feel more comfortable discussing difficult issues. Two thirds of those who reported being informed of U=U by HCPs reported being comfortable discussing concerns relating to the safety of others and prevention of transmission (66% n=1048/1588), compared to just over a third of those who reported being completely unaware (36% n=107/296).7
Proactive and informed discussions about U=U are beneficial, regardless of the source. However, the study observed stronger associations with self-reported positive health outcomes among those PLHIV who reported having these discussions with their HCPs, compared to those who reported accessing similar information via non-HCP sources.
"Those who reported being informed of U=U via their HCPs were more likely to report being aware that treatment prevents transmission and also report improved sexual, physical and mental health. However, one in three reported not being aware, which is high. As clinicians, if we are not proactively having these conversations with people living with HIV, then we are doing them a disservice."
Chinyere Okoli (Global Medical Affairs, Scientific Director at ViiV Healthcare), Bruce Richman (Founder & Executive Director of Prevention Access Campaign U=U) and Benjamin Young (Head, Global Medical Directors at ViiV Healthcare), study co-authors, explain the Positive Perspectives U=U results and what the data mean for HIV care:
The Positive Perspectives study is one of the largest, global, HIV patient-reported outcomes (PROs) studies to date, with 2,389 PLHIV participating from 25 countries. Building on the earlier knowledge and insights gained from the initial Positive Perspectives survey undertaken in 2017, this study aims to further identify and explore unmet needs of PLHIV with respect to HIV care, including the impact of the disease on their quality of life.
Prevention Access Campaign. About. 2017. Available at: https://www.preventionaccess.org/about. Last accessed: November 2020.
Prevention Access Campaign. Consensus statement. 2019. Available at: https://www.preventionaccess.org/consensus. Last accessed: November 2020.

Australasian Society for HIV, Sexual Health and Viral Hepatitis Medicine (ASHM). Guidelines for health care providers for providing advice regarding U=U (undetectable = untransmittable). Available at: https://www.ashm.org.au/HIV/UequalsU.pdf. Last accessed: November 2020.

European Aids Clinical Society (EACS) Guidelines. 2019. Version 10;91. Available at: https://www.eacsociety.org/files/guidelines-10.0_final_2_2.pdf. Last accessed: November 2020.

NAM AIDSMAP. What does undetectable = untransmittable (U=U) mean? Available at: www.aidsmap.com/about-hiv/what-does-undetectable-untransmittable-uu-mean. Last accessed: November 2020.

Rodger AJ, Cambiano V, Bruun T et al. Sexual Activity Without Condoms and Risk of HIV Transmission in Serodifferent Couples When the HIV-Positive Partner Is Using Suppressive Antiretroviral Therapy. JAMA 2016, 316(2).

Okoli C, Van de Velde N, Richman B et al. Undetectable equals untransmittable (U = U): awareness and associations with health outcomes among people living with HIV in 25 countries. Sexually Transmitted Infections. Published Online First: 30 July 2020. Doi: 10.1136/sextrans-2020-054551.

If you get any side effects, talk to your doctor, pharmacist or nurse. This includes any possible side effects not listed in the package leaflet. You can also report side effects directly via the Yellow Card Scheme at www.mhra.gov.uk/yellowcard or search for MHRA Yellowcard in the Google Play or Apple App store. By reporting side effects, you can help provide more information on the safety of this medicine.
If you are from outside the UK, you can report adverse events to GSK/ViiV by selecting your region and market, here.