Nneka: In London, where I live, the kind of healthcare people have access to varies from one part of the city to another, and from one part of the country to another, even though we have a publicly funded healthcare system in the National Health Service.
Keith: I have lived most of my life in Maryland and Texas and health equity is a major problem in these states and in many other places in the US. The type and quality of healthcare people receive can depend on where they live, how much money they make, or the colour of their skin. Those of you who have access to decent healthcare may be saying, 'well that's just the way it is, it doesn't affect me.' But the reality is, health disparities are unfair and negatively impact everyone.

Nneka: This is a hot topic for me and Keith, my fellow physician and colleague at ViiV Healthcare. The two of us recently had the opportunity to reflect on health disparities during media interviews about a new report, Achieving Health Equity: A Roadmap To Eliminating Disparities, which was developed by Economist Impact and sponsored by ViiV Healthcare. The purpose of the report was not just to repeat the same old soundbites about what health disparities are, but to instead focus on what specific groups can do about them. The report covers disparities related to HIV, sexually transmitted infections, mental health, and COVID-19 in the US and UK.
Keith: As we spoke to radio hosts in both countries, we discussed the current state of healthcare and there was a consistent thread connecting our conversations – that health disparities are real and persist in communities around the world, even in high income countries.

Nneka: If anyone thinks health disparities don't affect them, consider these statistics. In the UK, studies estimate that about £5.5 billion - one-third of the annual budget of the UK's NHS - goes to covering direct healthcare costs arising from inequality. And an estimated £31-33 billion in annual productivity losses are caused by ill health, disability, and premature death due to health disparities.
To put this into perspective, it's estimated that people dying prematurely each year in England due to health inequalities would have otherwise lived a total of between 1.3 million and 2.5 million extra years of life.
Keith: In the US, it's estimated that disparities amount to approximately $93 billion in excess medical care costs and $42 billion in lost productivity per year as well as additional economic losses due to premature deaths. Further, eliminating health disparities among racial and ethnic minority groups could have saved an estimated $230 billion in direct medical care and $100 billion in indirect costs from 2003-2006. Just think what we could do to improve peoples' lives if we could eliminate disparities and redirect those funds to provide more equal access to care and disease prevention.

Nneka and Keith: The Economist Impact report suggests that if we follow this roadmap, we could achieve health equity by 2040:
Restructure health systems to prioritize prevention for both physical and mental health

Make long-term investments in health systems and individual communities with the goal of eliminating health disparities
Improve data sharing practices and communication between initiatives and health providers to help prioritize and realign goals around improving equity

Find and use better ways of communicating to key populations so they know how and where to access care
Keith: If you care about your hometown and its surrounding areas, you need to care about the health disparities that define it. There's been a public awakening about the need to change our perspective and realize that all of us need to take responsibility for inequity in health care. By improving the health of our neighbours, we strengthen the overall quality of care and health for the broader community.

Nneka: Working to make a change and closing gaps in health outcomes and health care must be an urgent moral, social, and economic priority, and starts with a shared vision from stakeholders at the community and system level. What could you do to make a difference in your community?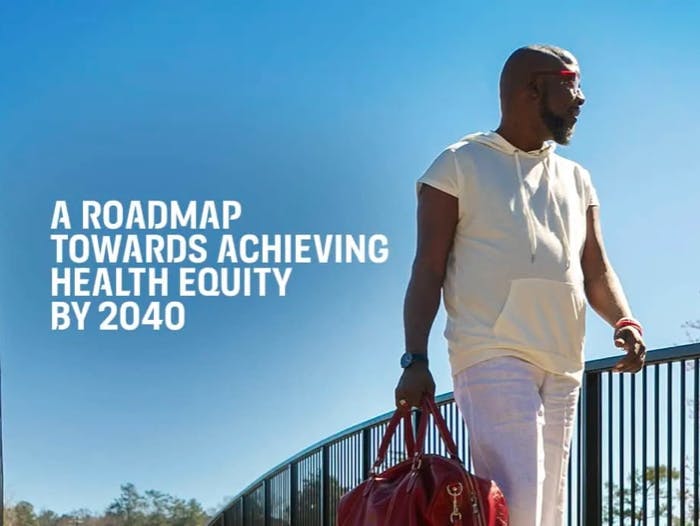 Resolving the persistent problem of health disparities is the central focus of Achieving health equity: a roadmap to eliminating disparities, a report sponsored by ViiV Healthcare and conducted by Economist Impact.

NP-GBL-HVX-COCO-220050 | April 2022
If you get any side effects, talk to your doctor, pharmacist or nurse. This includes any possible side effects not listed in the package leaflet. You can also report side effects directly via the Yellow Card Scheme at www.mhra.gov.uk/yellowcard or search for MHRA Yellowcard in the Google Play or Apple App store. By reporting side effects, you can help provide more information on the safety of this medicine.
If you are from outside the UK, you can report adverse events to GSK/ViiV by selecting your region and market, here.