IMPLEMENTATION OF HIV SELF-TESTING (HIVST) AT AN EMERGENCY MEDICINE DEPARTMENT (EMD) IN JAMAICA
Background
The coverage of HIV testing is low in Jamaica. Increasing the diagnosis and linkage of PLHIV to care can have significant effects on the treatment cascade and lives of PLHIV. The Jamaican Ministry of Health has expressed a desire to develop a comprehensive programme of HIVST. This study aims to successfully introduce the supply of HIV self-testing kits in the emergency medicine department (EMD) of a hospital in Kingston, Jamaica, to support programme development and expansion in the country.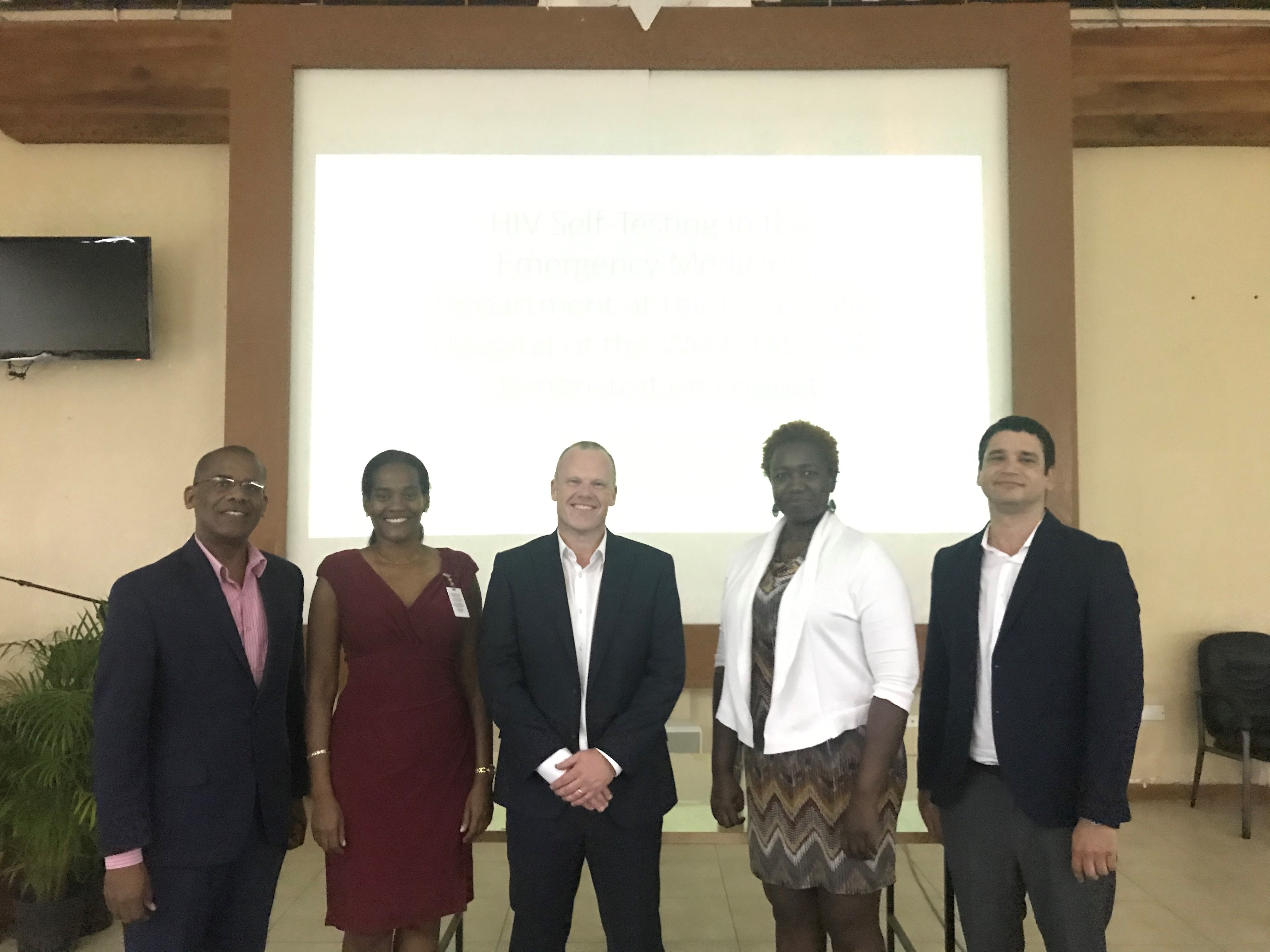 Design
This project follows a prospective, pre-post study design and adopts a mix of qualitative and quantitative outcome measures, including interrupted time series analysis. Outcomes include both implementation and effectiveness outcomes, with the primary focus being on implementation. The study is anticipated to begin in June 2021. In total, 600 patients are expected to take part in the study.
Primary objectives
To assess the reach, adoption, implementation fidelity and implementation cost of HIVST in the EMD.
To evaluate the implementation strategies adopted and evaluate the facilitators and barriers that impact the success of HIVST in the EMD.
To assess the clinical effectiveness of HIVST in the EMD to capture undiagnosed HIV positive patients and their secondary contacts, and successfully link them to care.
Collaborators
Dr Geoff Barrows, Centre for HIV/AIDS Research, Education and Services, Dept of Medicine, Univ Hosp of the West Indies.
Setting
University Hospital of the West Indies
Location
Kingston, Jamaica
Duration
June 2021 – May 2022
Category
Retention in Care and Adherence
NP-GBL-HVU-WCNT-210041 | March 2022
If you get any side effects, talk to your doctor, pharmacist or nurse. This includes any possible side effects not listed in the package leaflet. You can also report side effects directly via the Yellow Card Scheme at www.mhra.gov.uk/yellowcard or search for MHRA Yellowcard in the Google Play or Apple App store. By reporting side effects, you can help provide more information on the safety of this medicine.
If you are from outside the UK, you can report adverse events to GSK/ViiV by selecting your region and market, here.