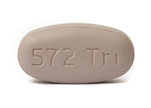 Triumeq is a once-daily single-pill dolutegravir-based regimen, containing the booster-free integrase strand transfer inhibitor (INSTI) dolutegravir and the nucleoside reverse transcriptase inhibitors (NRTIs) abacavir and lamivudine, which can be conveniently taken with or without food and may be taken at any time of day.

Triumeq has been shown to be efficacious across a broad range of patient groups in phase III clinical trials – including treatment-naïve, treatment-experienced and female-only populations.
Triumeq was approved by the US Food and Drug Administration (FDA) on 22 August 2014 for the treatment of HIV-1 in adults, and the European Commission (EC) on 2 September 2014 for the treatment of HIV in adults and children over 12 years of age who weigh at least 40kg.
Triumeq is approved for use in more than 50 countries. Click for details about the worldwide adult registration status of Tivicay and Triumeq; and ongoing regulatory filings and registration of paediatric Tivicay. Regulatory applications for Triumeq continue to be evaluated in other markets worldwide. Regulatory applications continue to be evaluated in other markets worldwide.
Please refer to local prescribing information for more details.
If you are a healthcare professional, for more information please visit our promotional website.
Other resources
Abacavir HSR Support - Information for healthcare professionals and the public on hypersensitivity reactions to abacavir
▼ This medicine is subject to additional monitoring. If you get any side effects, talk to your doctor, pharmacist or nurse. This includes any possible side effects not listed in the package leaflet. You can also report side effects directly via the Yellow Card Scheme at www.mhra.gov.uk/yellowcard. By reporting side effects you can help provide more information on the safety of this medicine.