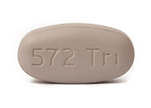 Triumeq is a once-daily single-pill dolutegravir-based regimen, containing the booster-free integrase strand transfer inhibitor (INSTI) dolutegravir and the nucleoside reverse transcriptase inhibitors (NRTIs) abacavir and lamivudine.

Triumeq was approved by the US Food and Drug Administration (FDA) on 22 August 2014 for the treatment of HIV-1 in adults, and the European Commission (EC) on 2 September 2014 for the treatment of HIV in adults and children over 12 years of age who weigh at least 40kg.

Triumeq is approved for use in more than 50 countries. Click for details about the worldwide adult registration status of Tivicay and Triumeq; and ongoing regulatory filings and registration of paediatric Tivicay for the 10mg and 25mg tablets and the 5mg dispersible tablets. Regulatory applications for Triumeq continue to be evaluated in other markets worldwide.
Please refer to local prescribing information for more details.
If you are a healthcare professional, for more information please visit our promotional website.
Other resources
Abacavir HSR Support - Information for healthcare professionals and the public on hypersensitivity reactions to abacavir