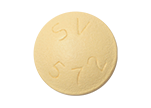 Tivicay (dolutegravir) is an integrase strand transfer inhibitor (INSTI) that is indicated for use in combination with other antiretroviral (ARV) medicines for the treatment of HIV infection. Tivicay is a 50mg tablet, which may be taken with or without food. In treatment-naïve patients, and in treatment-experienced patients who have not taken an integrase inhibitor, Tivicay is taken in most cases once a day and is booster free.

Tivicay has been extensively studied in five phase III clinical trials involving over 3,000 adult people living with HIV.
Tivicay was approved by the U.S. Food and Drug Administration (FDA) in August 2013; by the European Commission in January 2014; by the Canadian regulatory authority Health Canada in October 2013 and by the Japanese Pharmaceuticals and Medical Devices Agency in April 2014.
In 2016, the FDA approved a reduction in the weight limit from at least 40kg to at least 30kg for the treatment of HIV with Tivicay, meaning children and adolescents aged 6 – 12 years old will now be eligible to receive this treatment option.
Tivicay is now available in over 100 countries across North America, Europe, Asia, Australia, Africa and Latin America. Click for details about the worldwide adult registration status of Tivicay and Triumeq; and ongoing regulatory filings and registration of paediatric Tivicay.
If you are a healthcare professional, for more information please visit our promotional website.