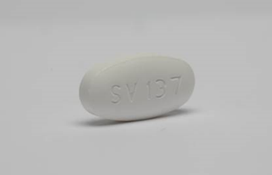 Dovato is ViiV Healthcare's second 2 drug regimen (2DR), once-daily single-tablet and combines the integrase strand transfer inhibitor (INSTI) dolutegravir (DTG), with the nucleoside reverse transcriptase inhibitor (NRTI) lamivudine (3TC).
Dovato was approved by the US Food and Drug Administration (FDA) on 8th April 2019 as a complete regimen for the treatment of HIV-1 infection in treatment-naïve adults with no known resistance to dolutegravir or lamivudine.1
Marketing Authorisation was also granted by the European Commission on 3rd July 2019 for the treatment of HIV-1 infection in adults and adolescents above 12 years of age weighing at least 40 kg, with no known or suspected resistance to the integrase inhibitor class, or lamivudine.2

Dovato is currently under review by other global regulatory authorities.

[1] Dovato (dolutegravir/lamivudine) Prescribing Information. US Approval 2019.

[2] Dovato (dolutegravir/lamivudine) EU Summary of Product Information. June 2019.
Prescribing information
Canada
United States

Prescribing Information and Patient Information Leaflet for Dovato®
Europe
European Summary of Product Information
Japan
Information for Healthcare Professionals
▼ This medicine is subject to additional monitoring. If you get any side effects, talk to your doctor, pharmacist or nurse. This includes any possible side effects not listed in the package leaflet. You can also report side effects directly via the Yellow Card Scheme at www.mhra.gov.uk/yellowcard. By reporting side effects you can help provide more information on the safety of this medicine.