Addressing the challenges of the HIV epidemic in vulnerable populations is central to our mission at ViiV Healthcare of "Leaving no PLHIV behind". This is particularly true for children and adolescents affected by HIV who have unique needs.
Despite progress, paediatric HIV remains a global issue, with children disproportionately affected by the HIV epidemic.
Latest statistics show there are 1.8m children under 15 years of age living with HIV due to obstacles including the availability of HIV testing and diagnosis in children, continued mother-to-child transmission, slow initiation of treatment and poor availability of optimised paediatric formulations of ARVs.[1] Caused by a fragmented paediatric HIV market that hinders launch and uptake of new formulations, drug development for CLHIV lags 8 to 10 years behind that of adults. A lack of market incentives and technical issues in manufacturing has lowered the priority for paediatric drug development.[2]
There are 1.8m children under 15 years of age living with HIV due to obstacles including the availability of HIV testing and diagnosis in children, continued mother-to-child transmission, slow initiation of treatment and poor availability of optimised paediatric formulations of ARVs
As a specialist HIV company, we're committed to addressing the gaps in paediatric HIV, treatment options and management of care; leading the way with the delivery of solutions to ensure no child living with HIV is left behind. Our unique cross-functional team focuses on delivering optimised age-appropriate formulations, working collaboratively with the paediatric HIV field to establish priorities, and designing and driving novel approaches to ensure access to our paediatric medicines. In parallel, we work closely with the HIV community through Positive Action to build healthcare and community capacity, helping to foster a more effective healthcare service provision for children

We have a long-standing history in our commitment to making a difference in this space and have been recognised by the global community by receiving the first Public Recognition Award from the Global Paediatric Antiretroviral Commitment to Action, awarded for our exceptional efforts to expand access to HIV/AIDS treatment for children.
Crucial to our continued progress in paediatric HIV care is the work with our partners. Across our spectrum of work, from R&D to Access to Supporting communities, our partners are helping us improve the lives of children affected by HIV.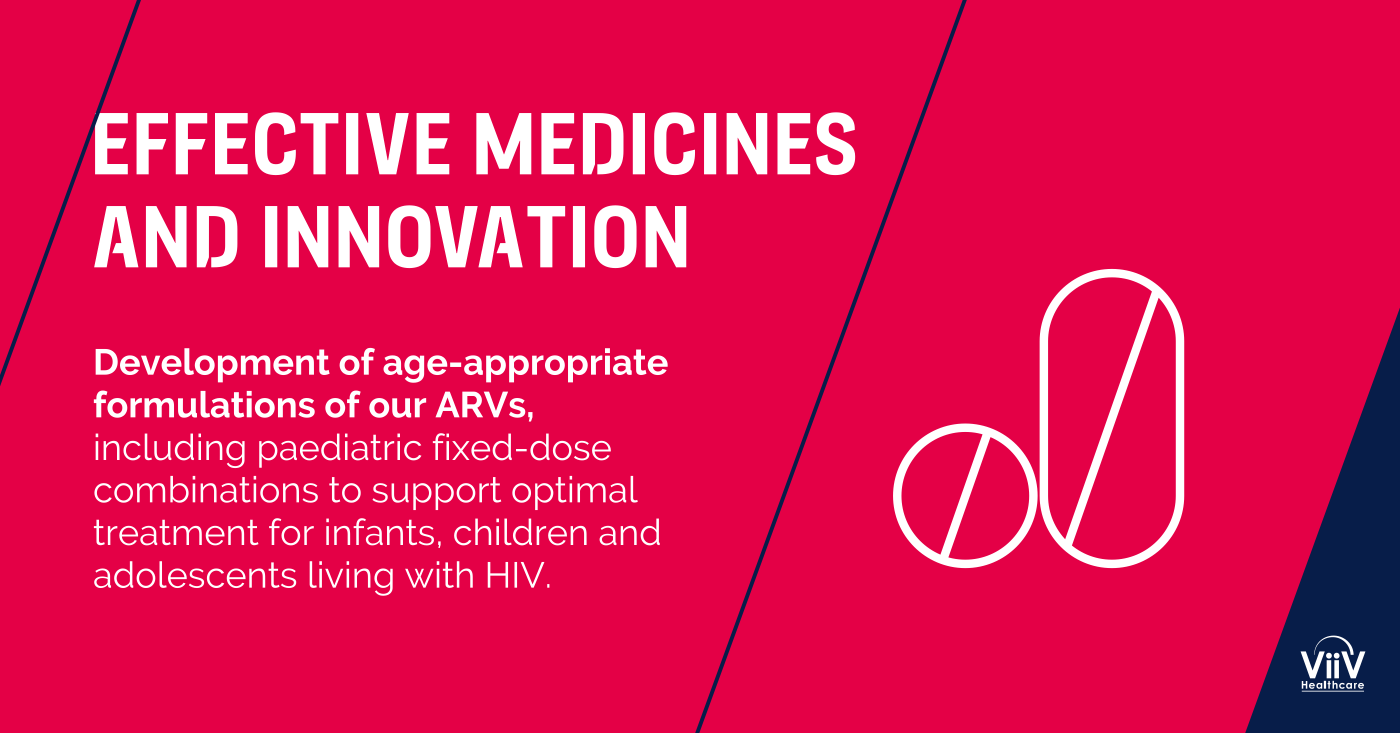 Research and Development
Our scientists are dedicated to developing optimised formulations specifically for infants and children living with HIV. With 88% of new HIV infections in children found in sub-Saharan Africa, working with the community we are focused on creating solutions that can be implemented in the developing world where the burden of HIV is highest. [1]
Our collaboration with IMPAACT on the P1093 study enabled us to successfully develop an age-appropriate formulation of dolutegravir (DTG) that increases accessibility of the treatment. We are also working with PENTA as part of the ODYSSEY clinical trial to support our commitment to deliver a simplified dosing strategy and licence from 4 weeks of age. For current licenced indications see our prescribing information.
Today, we are involved with several clinical studies that will continue up until 2020, focusing purely on paediatrics . We are always looking to the future, providing funding to the Paediatric European Network of Treatment of AIDS (PENTA) EPIICAL Consortium, in the drive to find remission and cure strategies for children living with HIV. Find out more about our R&D.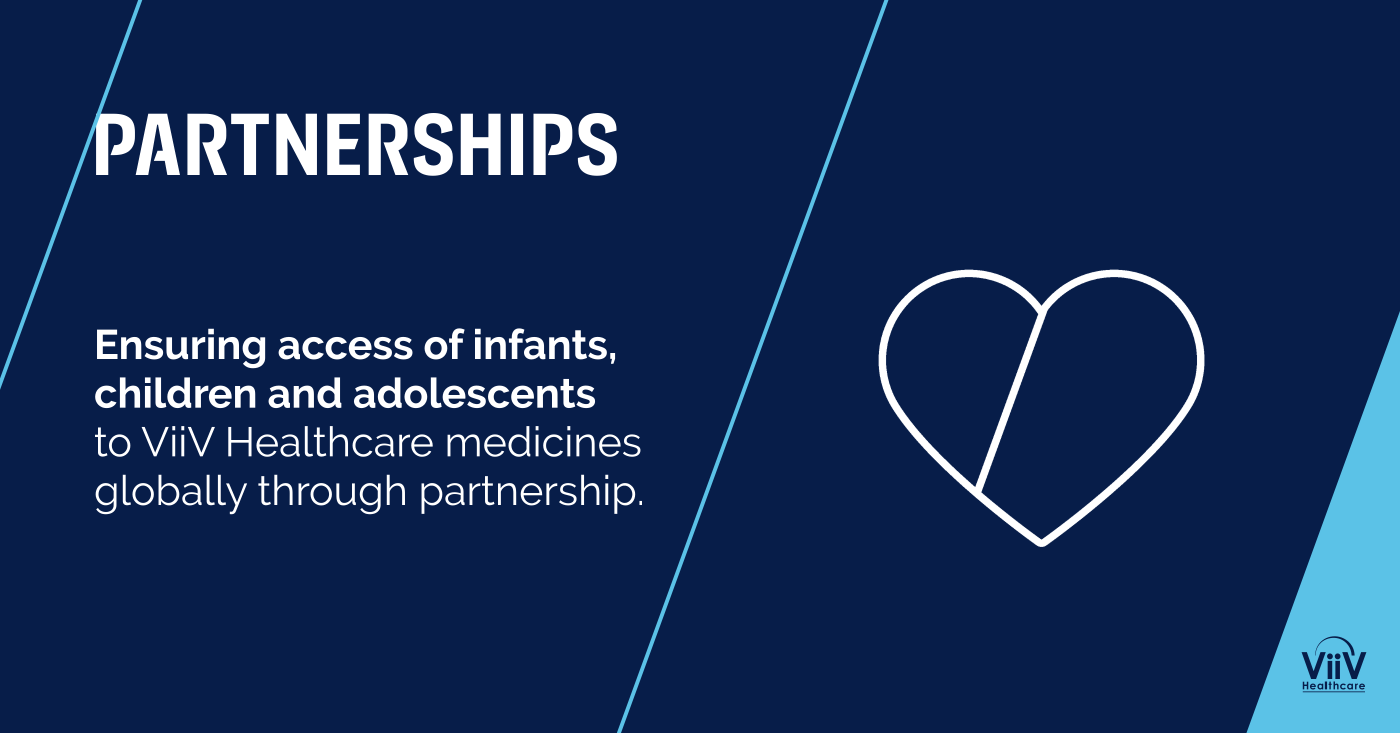 Access
Alongside our partners we continue to accelerate access to medicines. Our voluntary licence agreements enable generic manufacturers to develop paediatric formulations of abacavir and dolutegravir in the 118 countries where 99% of children living with HIV live. [1] [2] Currently 15 generic manufacturers hold voluntary licences for paediatric formulations of DTG: one direct licence and 14 through the Medicines Patent Pool.
Click for details about the worldwide registration status of ongoing regulatory filings and registration of paediatric Tivicay.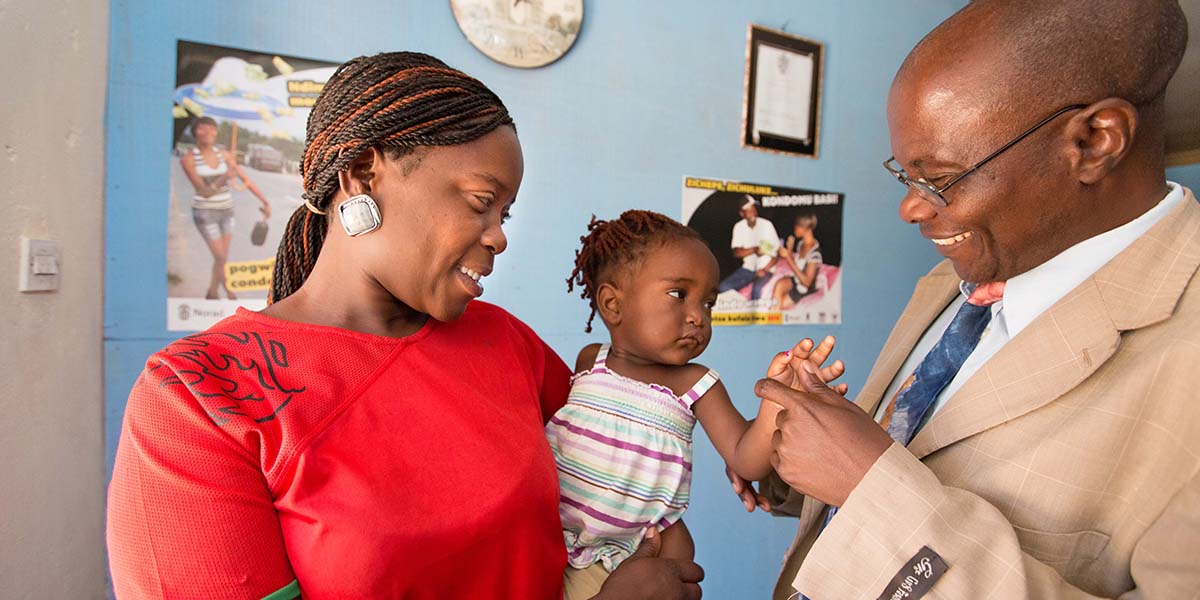 Building on a successful partnership with the Clinton Health Access Initiative (CHAI) and Mylan to develop and introduce a dispersible formulation of ABC/3TC for children, ViiV, CHAI and Unitaid have together established an innovative new partnership. This partnership aims to expedite the development and introduction of optimised paediatric formulations of dolutegravir (DTG), providing generic partners with financial and technical incentives to develop and manufacture generic DTG for the treatment of HIV in children and infants across resource-limited settings. Find the full press release here.
Our work is focused on priorities set by the World Health Organisation (WHO)-led Paediatric ARV Drug Optimisation (PADO) group. We also collaborate with other major partners in the HIV community such as the International AIDS Society (IAS) as the founding and major sponsor of the Collaborative Initiative for Paediatric HIV Education and Research (CIPHER) – now the IAS platform for Paediatric HIV. The Elizabeth Glazer Paediatrics AIDS Foundation is another of our close partners who we work with to increase access for infants and children.
Working with the Communities
Now over 25 years old, our Positive Action programme supports vulnerable communities around the world. Working alongside our Non-Governmental Organisation (NGO) and Community Based Organisation (CBO) partners, we deliver sustainable projects in communities facing the toughest obstacles in HIV and AIDS. Of significance to our work in addressing the epidemic in infants and children, our Positive Action for Children Fund focusses on supporting local community-based organisation and interventions that work towards the prevention and elimination of mother-to-child transmission of HIV. Since 2010, 170 PACF grants have been awarded around the world reaching 1.8m people and training over 124,000 health workers.