HIV IN THE REAL WORLD - HOW REAL WORLD EVIDENCE CAN SUPPORT CLINICAL PRACTICE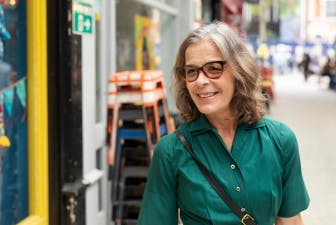 Real-world evidence is an increasingly important aspect of data-driven science, but how can it be utilised to benefit the HIV community? I sat down with HIV specialist Dr Cristina Mussini to discuss real-world findings and their value in clinical practice
In the 40 years since the first cases of AIDS were officially reported, there has been significant progress in how we view HIV and the ways it can be treated. Today's global population living with HIV is living longer and has different, evolving needs; and people living with HIV now have access to an expanding range of highly effective and safe treatment options that offer choices to suit individual needs, including 2-drug regimens, single-pill medications and long-acting treatments. As clinicians, we are always looking to expand our knowledge, continue to make the best treatment decisions and improve the experience of people living with HIV. A key tool to help us achieve this is real-world evidence (RWE).

Real-world evidence and randomised controlled trials – a complementary approach
RWE is an essential component of evidence-based medicine, bridging the gap between randomised controlled trials (RCTs) and day-to-day clinical practice. RCTs are a critical component of developing and bringing new treatments to market but evidence from these very structured clinical trials, with tightly defined patient populations, doesn't tell the full story when we consider treating the diverse groups of people affected by HIV in practice. This is where RWE is increasingly recognised for its critical role in the decision-making process when it comes to selecting the most appropriate HIV treatments. While RWE is not a substitute for RCTs, as each have their place, the two approaches complement each other in optimising patient care.
The history of RWE in HIV – how we got where we are today

It is undeniable that the HIV research community has been a pioneer in the generation and use of RWE. In fact, RWE in HIV happened organically over the last forty years – the evolutionary nature of the HIV epidemic lent itself well to the development of observational cohorts from early on. The cohorts were established to study and understand the natural history and disease progression caused by the virus, and were expanded as novel treatments were developed to follow the people using them. ViiV Healthcare has been at the forefront of RWE and observational data for many years, dating back to programmes started by GSK in 1987. ViiV Healthcare continues to evaluate features of its treatments in real-world practice, including effectiveness, adherence, durability and safety via its robust RWE programme.
"RCTs are fundamental to understand the safety, efficacy and tolerability of a drug in the short term, but the aim of real-world evidence is to give us a fuller understanding of a drug and how it works in clinical practice," says Dr Cristina Mussini, Professor of Infectious Diseases at the University of Modena and Reggio Emilia, and Director of the Clinic of Infectious Diseases at the Azienda Ospedaliero-Universitaria Policlinico Hospital in Italy, "HIV affects a wide range of people all over the world and specific differences between patient groups could impact the effectiveness of treatments. To really understand how medicines work in the population at large, we need large sample sizes and long-term data. This is what real-world evidence gives us."
The role of RWE in painting a more holistic picture of long-term effectiveness, safety and tolerability is reflected by recent activity among regulators, with the US Food and Drug Administration (FDA) publishing draft guidance on the use of RWE for registrational purposes and European regulators developing a vision on RWE and where it fits in to the regulatory framework. , "Real-world data add importance because they include diverse groups of patients who may not have been included in RCTs and give us a better idea of tolerability and effectiveness," says Dr Mussini. "Side effects, especially long-term side effects and rare events, are largely observed in real-world data, and clinicians are always looking for new strategies to reduce side effects for their patients." Nonetheless the HIV community is still missing data – even in RWE studies – from important populations including transgender people, women (especially pregnant and menopausal women), and people over 50 which could be important in uncovering side effects relating to bone health, metabolism, cardiovascular disease and kidney function.

"There are some questions that are impossible to answer with randomised clinical trials."
Regional differences that may not be reflected in RCTs can also be picked up through RWE as they typically include a wider range of populations and subgroups than RCTs. Through taking an evidence-based approach in a real-world setting, we can capture findings that are unique to particular regions or patient populations.
"Many randomised clinical trials are conducted in the US," explains Dr Mussini, "but the clinical and patient experience of people living with HIV there will be very different from those in other parts of the world. Take, for example, a simple parameter such as body mass index, or BMI. We might see quite different BMI rates between, say, Europe, the sub-Saharan region and the US, so it's important to take this into consideration."
Looking ahead to support the unmet needs of people living with HIV
When it comes to medicine, creativity is not a word that immediately springs to mind. But the curiosity of physicians, hypothesising about treatment options, testing these ideas out in RCTs and RWE studies – this creativity and innovation – is bringing about the greatest advances in managing patient care in HIV, according to Dr Mussini. "In the beginning, we tried everything, we couldn't wait for RCTs. When trying new regimens, we were doing blood tests every two weeks to see what was happening," says Dr Mussini, reflecting on the early days of the HIV epidemic. Today, we are in a much stronger position when it comes to data-driven decision-making. Building RWE into regulatory guidance is a significant step towards recognising the importance of these studies, but we need to keep looking ahead to identify how best to integrate RWE into the HIV evidence landscape fully. Priorities include using RWE studies to identify gaps in our knowledge, for example focusing on older people, pregnant women and children living with HIV, collecting and collating data from countries across the world, and ongoing collaboration between the pharmaceutical industry, clinicians and other stakeholders, such as non-governmental organisations (NGOs) and community advocacy groups. This will ensure that we have a more comprehensive and representative picture of how different treatments can most effectively meet the unmet needs of all people living with HIV, including those under-represented populations, to help us move closer towards meeting the UNAIDS goal of ending the AIDS epidemic.
NP-GBL-HVX-COCO-220066 June 2022
If you get any side effects, talk to your doctor, pharmacist or nurse. This includes any possible side effects not listed in the package leaflet. You can also report side effects directly via the Yellow Card Scheme at www.mhra.gov.uk/yellowcard or search for MHRA Yellowcard in the Google Play or Apple App store. By reporting side effects, you can help provide more information on the safety of this medicine.
If you are from outside the UK, you can report adverse events to GSK/ViiV by selecting your region and market, here.