POSITIVELY THRIVING: THE PODCAST SERIES TO EMPOWER PEOPLE LIVING WITH HIV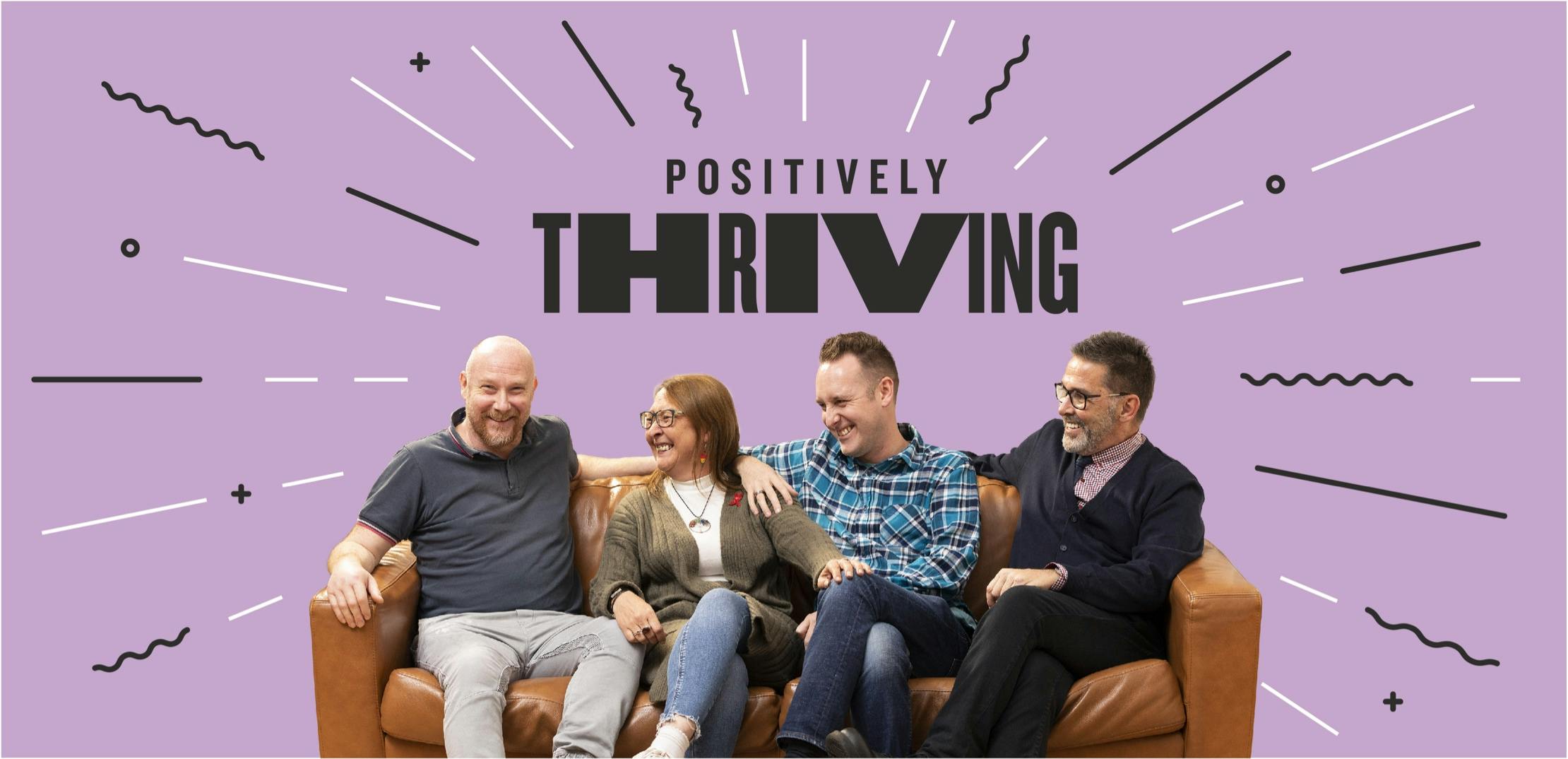 The four hosts of the Positively Thriving Podcast
Positively Thriving is a podcast series supported by ViiV Healthcare that helps to redefine what living with HIV means and aims to inspire others to live long, healthy, happy lives with HIV.
Positively Thriving is an exciting new initiative – a podcast made by people living with HIV, for people living with HIV and those affected by it. Hear the episodes currently available via: Spotify, SoundCloud or YouTube.
The show is hosted by a group of friends who are advocates and activists in the HIV community. Tom, Samantha, Robert, Bryan and Brad, along with guest speakers, enjoy frank and friendly chats about life, love and their futures with HIV.
"A podcast is a great way to reach lots of people, it's a way for them to feel like they're a part of our conversations, of our own little group.

We are here, and we are thriving with HIV."
By sharing their personal experiences, helpful tips and advice, members of the podcast panel aim to empower others to be proactive in their health and well-being, so they too can thrive. The initiative is partly based on results of ViiV Healthcare's Positive Perspectives survey, which showed that individuals who are actively involved with their treatment decisions are more satisfied, worry less about side effects and have better adherence.1
The podcast panel represents a variety of backgrounds, cultures and lifestyles. This creates a fascinating blend of different perspectives and anecdotes. Over the series, the group will tackle a range of important topics in HIV, including self-advocacy, stigma and ageing well with HIV.
Authenticity is the beating heart of the podcast, with the panel sharing their individual ups and downs on the journey to where they are today. Whether a listener is at the beginning of their HIV journey or more established, Positively Thriving aims to inspire people to live the lives they want – and for HIV to be a smaller part of those lives.
"We believe, by focusing on real-life experiences, there is something or someone that everyone can relate to, all are welcome, and we are very excited to play a part in it."
If you get any side effects, talk to your doctor, pharmacist or nurse. This includes any possible side effects not listed in the package leaflet. You can also report side effects directly via the Yellow Card Scheme at www.mhra.gov.uk/yellowcard or search for MHRA Yellowcard in the Google Play or Apple App store. By reporting side effects, you can help provide more information on the safety of this medicine.
If you are from outside the UK, you can report adverse events to GSK/ViiV by selecting your region and market, here.