FAST-TRACK CITIES: A NETWORK TO END THE GLOBAL HIV EPIDEMIC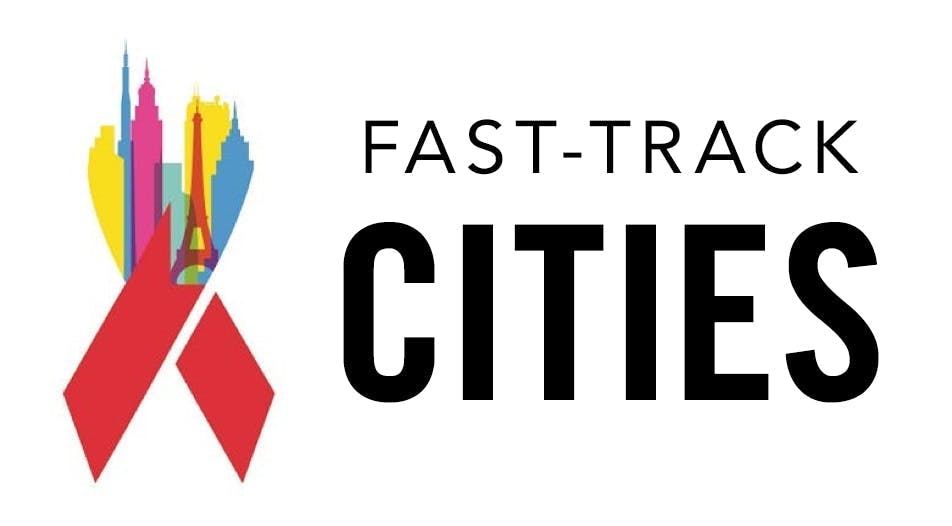 The 200 largest cities and municipalities in the world account for more than one quarter of people living with HIV globally.1
Reducing new HIV infections and AIDS-related deaths in these urban centres can have a profound impact not just on national HIV epidemics but on the global HIV pandemic. City and municipal governments can therefore play an important role in curbing the global rates of new HIV infections and AIDS-related deaths.
Actioning this vision, the Fast-Track Cities initiative was launched on World AIDS Day in 2014, with 26 cities and municipalities signing the Paris Declaration on Fast-Track Cities. They each pledged to attain and surpass the Joint United Nations Programme on HIV/AIDS (UNAIDS) 90-90-90 targets by 2020 on a trajectory towards ending urban HIV epidemics. Today, the Fast-Track Cities network includes more than 300 cities and municipalities worldwide.

The network relies on data-driven, equity-based interventions to close gaps across HIV prevention and treatment, as well as striving to eliminate a major barrier to ending urban HIV epidemics – stigma and discrimination. ViiV Healthcare has been a Fast-Track Cities initiative partner since its launch, and we are proud to support various programmes, including the development of Fast-Track City dashboards. The dashboards assist cities and municipalities within the network to report their 90-90-90 and other HIV data, giving visibility to their own progress and forward momentum towards ending the urban HIV epidemics.
Dashboards also equip decision-makers at city and municipal levels with the data they need to prioritize programmes to facilitate progress towards preventing new HIV infections and averting AIDS-related deaths, and to help secure critical resources to support community-based interventions. The dashboards also encourage local jurisdictions, primarily health department officials as well as Mayors and other local elected officials to remain accountable to their constituents by openly reporting on their progress as required by the Paris Declaration on Fast-Track Cities.
The first step in addressing the HIV epidemic is to understand what is happening at a local level. We need to know the gaps in HIV testing: Who is not getting tested? We need to know who is not accessing treatment. We need to know who is achieving viral suppression and who is not. If not, how can we address the problem? How do we correct the issue? Dashboard data generation has been incredibly important because a dashboard serves as a simple tool that can establish a baseline and allow us to track whether, year on year, a Fast-Track City is making progress or is falling behind.

The Fast-Track Cities network stands as an example of thinking globally but acting locally, and demonstrates what communities at global, national, and municipal levels can achieve when the desire, the support, and the tools to collaborate are present.
"I can imagine a world without HIV. It is a world that will only be realized if we are creative and courageous in our approach to addressing the HIV epidemic. It is achievable. We have modelled it... It is possible. Across the Fast-Track Cities network we are witnessing the forward momentum that could get us there," said Dr. Zuniga.
For more information about Fast-Track Cities, view the In Conversation with Dr. José M. Zuniga, President/CEO of the International Association of Providers of AIDS Care (IAPAC), video below.
Montreal as a Fast-Track City
On December 1, 2017, Montreal joined the Fast-Track City movement to end the epidemic, renewing the commitment to supporting our citizens in the fight against HIV/AIDS.
Montreal's commitments are largely focused on the 95-95-95 targets:
95% of all people living with HIV will know their HIV status.
95% of all people with diagnosed HIV infection will receive sustained antiretroviral therapy.
95% of all people receiving antiretroviral therapy will have viral suppression.
To date, ViiV Healthcare Canada supports the funding of Montreal as a Fast-Track City.

In Conversation with Dr. José M. Zuniga