Elizabeth Glaser Pediatric AIDS Foundation Partnership
Our partnership with the Elisabeth Glaser Paediatric AIDS Foundation works towards increasing access to antiretroviral drugs and improving care for infants and young children.
Hi, my name is Denis Tindyebwa and I am the Director for Pediatric Care and Treatment at the Elizabeth Glaser Pediatric AIDS Foundation. I'm pleased to tell you a bit about how we are collaborating with ViiV Healthcare toward our mutual objectives of increasing access to antiretroviral drugs and improving care for infants and young children.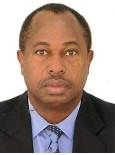 Project name:
Elizabeth Glaser Pediatric AIDS Foundation, a partnership developed as one of the programmes within the Paediatric Innovation Seed Fund
Population:
Infants and young children
Challenges:
Poor identification of HIV-infected children; Lack of infrastructure; Insufficient knowledge at community level; Stigma and discrimination; Neglect of infants and young children in HIV programmes and policy
Activities:
Training, policy analyses and research
One barrier is that children who are born of HIV-positive mothers are not followed up with properly to provide the services that they need. Service providers do not indicate the children are HIV-exposed and therefore they need to be tested. The service providers do not always routinely offer testing of children. The dried blood spot testing for PCR system is very weak in most countries, and therefore the results take a very long time to get back to the mothers and the caregivers. All of these add up to inadequate access for children who need treatment in these low income countries.
Denis Tindyebwa, Elisabeth Glaser Pediatric AIDS Foundation
Solutions to the challenges presented above, require a concerted effort between all of the stakeholders. Programme success cannot be achieved by a sole organisation and hence we need effective partnerships across major governmental, non-governmental and private organisations. Industry is a key player in this process and contributes both knowledge and resources.
You need to include all of the stakeholders in HIV as you work in the country. Industry brings in the resources and the expertise that allow us to run programmes which are often overlooked or underfunded.
Denis Tindyebwa, Elisabeth Glaser Pediatric AIDS Foundation
Our combined collaborative goals are to:
Increase early detection and initiation of ART for HIV-infected infants and young children
Strengthen government leadership and policy surrounding paediatric HIV care and treatment
Better use of strategic information to understand and improve our programmes
Since partnering with ViiV Healthcare we have been working together on a number of initiatives.
Training health workers in countries such as Malawi, Swaziland, and Lesotho.
This is important because if service providers do not offer testing and counselling for young children, then those children will pass through the health system without being identified. Often the die without knowing what killed them. And so with a bit of training, the service providers become more confident in offering testing to the children, to their parents and their families and this helps to increase access to treatment.
Denis Tindyebwa, Elisabeth Glaser Pediatric AIDS Foundation
Policy analyses to assess political barriers that restrict access to treatment for infants and young children. The results can be used to develop advocacy strategies to remove these barriers.
Research into the proportion of young children infected, the proportion receiving HIV test results and the proportion treated. Results highlight the gaps and frequently show that an HIV test is performed but that the results do not get back to the health worker or the infant's family or caregivers. Country programmes can be adapted to close the identified gaps, using innovative new approaches.
We really appreciate the ViiV Healthcare commitment to increase access for the community. We have found ViiV Healthcare a very respectful and trusting donor and partner, and we are proud of the work that we've been doing together to increase critical access for children.
Denis Tindyebwa, Elisabeth Glaser Pediatric AIDS Foundation