HELPING BOTSWANA 'TREAT ALL' PEOPLE LIVING WITH HIV
Together with PEPFAR, we worked to deliver the largest tender agreement in sub-Saharan Africa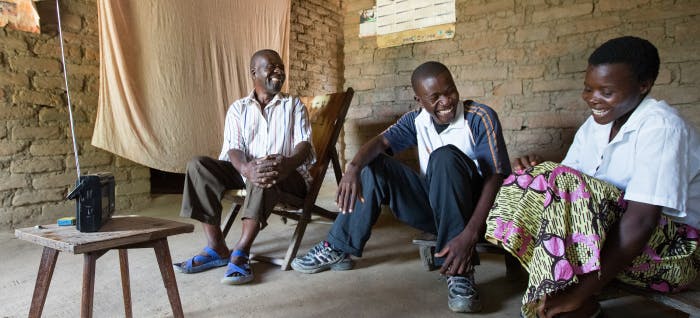 Sub-Saharan Africa is a region particularly affected by the HIV epidemic, with nearly three-quarters of the global HIV population residing there.[1]
One country that's making headway in the fight against HIV is Botswana, where 360,000 people living with HIV (PLHIV) live. This is despite outstanding achievements in addressing gaps in HIV treatment and care in the country.[2]
Following extensive economic analysis, in 2016 the Botswanan Ministry of Health (MoH), with PEPFAR support, opted for a 'Treat All' strategy, which included the use of dolutegravir (DTG) as first-line treatment, in addition to improved HIV-prevention efforts, had to be adopted in order for the country to gain control of the epidemic.[3][4]
Collaborating to improve access to antiretrovirals ( ARVs )
That year, ViiV Healthcare secured a tender agreement with the Botswanan Ministry of Health (MoH) for DTG to be made available as part of its new national 'Treat All' programme, which aims to ensure PLHIV in the country have access to testing and treatment.
The agreement was the first time DTG was made available as part of a national health programme in sub-Saharan Africa since the World Health Organization (WHO) recommended DTG as an alternative first-line treatment in HIV patients in late 2015.
Focussing efforts on areas of high unmet need
As an area of high burden, the tender agreement with the MoH in Botswana represents a key milestone in ViiV Healthcare's commitment to accelerating access to DTG in sub-Saharan Africa, where more than 75% of PLHIV live.1 The speed with which this was achieved also demonstrates the success of ViiV Healthcare's approach to improving global access, coming less than five years after the U.S. Food and Drug Administration first approved DTG.[4][5]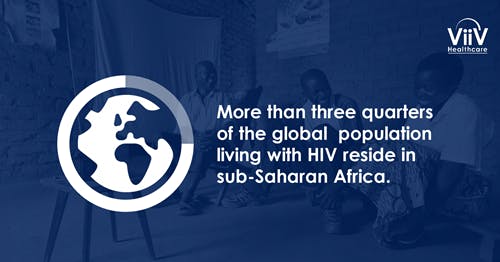 Under the agreement, ViiV Healthcare committed to supporting the 'Treat All' programme for HIV in Botswana through the provision of 1.6 million packs of DTG 50 mg from 2016 to 2017. The medicine has been used as a first- linecore agent to treat newly diagnosed patients tested under the programme in Botswana. Since this initial agreement, generic DTG is now available across the region through our voluntary license agreements with generic companies and the Medicine Patent Pool.
What's been the impact so far?
The collaboration between ViiV Healthcare and the Botswana MoH helped to significantly improve outcomes for PLHIV in the country through enabling greater access to effective HIV medicines, while supporting Botswana's broader commitment towards the UNAIDS 90-90-90 goals.
By the end of the first year, 38,576 patients were initiated to ARVs, resulting in 1,875 fewer HIV infections with approximately 40,000 patients receiving DTG.[5]
Increased access to DTG through our tender agreement to supportthe national 'Treat All' programmehas helped to put the country on track to achieve control of the HIV epidemic by 2018. In fact, ARV coverage of the total HIV population has increased to 83% in 2016 (compared to 70% in 2014).[2]
[1] WHO. Global Health Observatory (GHO) data. Available at: http://www.who.int/gho/hiv/en/. Last accessed: January 2018.
[2] UNAIDS data. Available at: http://www.unaids.org/en/regionscountries/countries/botswana. Last accessed: December 2017.
[3] Haruna Jibril, Deputy Permanent Secretary, Botswana Ministry of Health and Wellness, 'Moving forward. Enhanced ART Monitoring in Countries: Botswana'. Presented at IAS July 2017.
[4] PEPFAR. Botswana Country Operational Plan 2017, Strategic Direction Summary. March 2017. Available at: Botswana Country Operational Plan 2017 Strategic Direction Summary. Last accessed July 2018
[5] FDA. Highlights of Tivicay Prescribing Information. Available at: https://www.accessdata.fda.gov/drugsatfda_docs/label/2013/204790lbl.pdf. Last accessed: January 2018.
[6] Tendani Gaolathe, MD & Ava Avalos, MD. IAS Presentation: 'MOVING FORWARD Botswana's Progress Toward Epidemiologic Control of HIV', Ministry of Health of the Republic of Botswana, 2017.