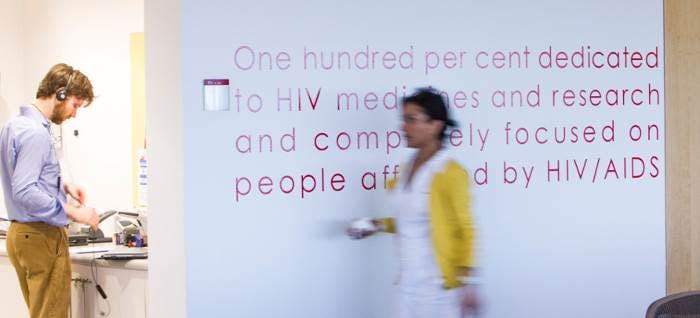 Your application is very important to us and we want to make applying for a job at ViiV Healthcare as rewarding an experience as possible. Please review the step-by-step guide to our recruitment process below.
1. First, select the Current Vacancies option from the menu to find a suitable vacancy for you.
2. Use the search page to help you locate vacancies that you might be interested in reading more information about and applying to.
3. When you find a job that interests you and matches your skills, knowledge and experience, click on the job title. To apply, click on the 'Apply Now' button at the end of the job description.
4. Login using your existing profile information or setup a new profile using the instructions in the section below called "How to set up a profile to receive email notification of vacancies that match your requirements"
5. Fill in the online application form, ensuring that all red field names are complete. Briefly state why you're interested in the job, and follow the instructions to upload your CV or paste it into the field provided. You can also upload up to three supporting documents of up to 150 kb in size. If you do not already have a CV, you can use the 'Build CV' link to create one. If you have difficulty pasting your CV into your application form, please see the section below titled, 'How to paste information from a word processing document/HTML/XML into your application'
6. When you submit your application, we'll let you know by an on-screen message that it has arrived safely.
7. By providing a valid email address, you will ensure that you will receive email confirmation that your application arrived in the recruiter's inbox. (We use specialist recruiters to handle aspects of the recruitment process.)
8. The recruiter reviews your application. If your CV/résumé matches the requirements of the job, they'll forward your CV/résumé on to the appropriate hiring manager. (The hiring manager is the one who has the specific vacancy in their team.)
9. The hiring manager reviews applications from all of the suitable candidates, and selects whom to invite for an interview.
10. Due to the volume of applicants, we'll contact you only if you are invited for an interview— this is usually done by either phone or email first in order that we can check your availability. We'll then send you full details by letter or email. You can, however, view your account to check the status of your application at any time. Please see section below, which outlines how to create an account.
11. Following the interviews, the interviewers meet to evaluate all candidates against the job requirements. The hiring manager selects the most suitable candidate.
12. If you are selected, the recruiter will contact you to make you a verbal offer. This will be followed up by a written offer letter, in which we'll explain the next steps including our pre-employment screening process.
13. If you are selected, you will go through a pre-employment screening, after which we'll finalise your start date and induction details.
How to set up a profile to receive email notification of vacancies that match your requirements
1. If you can't find a suitable vacancy on your initial search, you can create a profile to enable you to receive an email notice when jobs matching your requirements open up. This account will also enable you to add or edit your personal information, view your application status, create and view saved job searches to receive job alert emails, and store and edit your covering letter, CV and supporting documents.
2. To create your personal profile, select the 'View my Account' option at the top of the vacancy search results page.
3. Then select "Create a new account" under the new visitor section.
4. Complete all the red fields on the form which is displayed and then click on 'Sign in' at the bottom of the page.
5. To set up a job search with your job requirements, you should select the 'Saved search' option and click on 'Add'. You will then be asked to name your search, e.g. 'ViiV', and then will be asked to select the frequency of notification and an end date and then select 'Save'. You will then receive an email notification each time relevant ViiV Healthcare roles are posted. ViiV Healthcare is a member of the GSK Group of Companies, and therefore you may also see GSK vacancies.
6. Once you have set up your account, you can review it at any point via the 'Returning visitor' option and entering your email address and password.
How to paste information from a word processing document/HTML/XML into your application
From a word processing document
When cutting and pasting from a document that was created using a word processing program, the software may insert invisible characters that may not allow the information to be successfully saved.
Note: To avoid this problem, you should cut and paste only text into the CV and introduction letter fields in the on-line application.
To paste from Microsoft Word
1. Open your document in Microsoft Word and click 'File' in the menu bar.
2. Select 'Save as'.
3. In the 'Save as type' field, select 'Text only with line breaks' (*.txt).
4. Save the text document to a location where it can easily be found.
5. Close Word.
6. Using Notepad or WordPad, open the new text document.
7. Correct the format of your new document by adding spaces to align fields or by adding asterisks to denote bulleted items.
8. Select 'Edit' and then 'Select all' to select all of the text.
9. Select 'Edit' and then 'Copy' to copy the text to the clipboard.
10. Paste the text into the appropriate field on the online application by pressing 'Ctrl' and 'V' at the same time.
From HTML or XML
Cutting and pasting from an HTML or XML document may inadvertently include HTML or XML tags that could make your application difficult to read.
Note: To avoid this problem, cut and paste only text into the résumé and introduction letter fields in the on-line application.
Technical tips and troubleshooting:
Our application software has been tested using Microsoft Internet Explorer 6.01 SP1 or greater. Problems may occur if you submit your form while using a browser that has not been tested. We recommend that you apply using one of the tested versions of Internet Explorer.

Enabling cookies
Why are cookies necessary?
The jobs you apply for via the job cart are saved in a cookie that is checked by our web page when you submit your application. If your browser does not allow cookies to be saved, then your application may not be forwarded. Please enable cookies through your designated browser.