QPP - Queensland Positive Speakers Bureau. Neutralising the health impact of HIV related stigma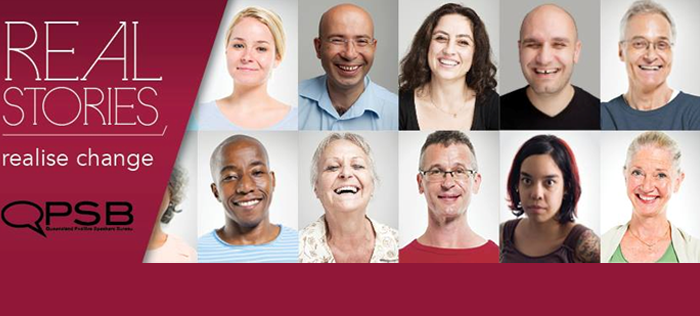 Queensland Positive People (QPP) is a peer-led community organisation that promotes self-determination and empowerment for people living with HIV throughout Queensland. QPP auspices The Queensland Positive Speakers Bureau (QPSB), a community partnership between four key organisations: QPP, Hepatitis QLD, Ethnic Communities Council of QLD (ECCQ) and Australasian Society for HIV, Viral Hepatitis & Sexual Health Medicine (ASHM).
QPSB engages people with a lived experience of HIV and/or viral hepatitis to speak publicly about the realities of living with the virus/es before a diverse range of audiences across community, government, clinical and non-clinical health workforce and education sectors. QPSB trains and support individuals to share their story with clear, relevant messaging and a call to action that promotes desired behavioural change. The aim of the program is to provide a human face to HIV and viral hepatitis and thereby stimulate in the listener greater understanding, empathy, responsibility and goodwill toward people living with and affected by HIV and viral hepatitis and HIV prevention efforts. Through personal storytelling, positive speakers become agents of systemic and social change, de-stigmatising and correcting misconceptions surrounding blood borne viruses, and building capacity for individuals and services to contribute positively toward improved health outcomes for HIV and hepatitis affected populations. The Positive Speaking Program provides audiences with a direct personal experience that cuts through preconceived ideas leaving a positive impression that has powerful lasting impact and effect.

27.6% of Australian HIV positive respondents to the 2013 Futures 7 Survey reported having experienced less-favourable treatment at a health or medical service as a result of having HIV, manifesting in behaviours of avoidance (43.5%); confidentiality breaches (38.7%) and increased infection control (39.1%). Stigma and discrimination adversely affect positive health behaviours of people living with or at risk of HIV such as accessing information, services and treatment. Within community, acculturated HIV-related stigma prevents people getting tested or making informed choices around health care engagement and can have impacts that directly affect quality of life. These may include late and unexpected diagnoses, social isolation or ostracisation and increased vulnerability to HIV acquisition due to myths and misconceptions around HIV transmission and illness, and socio-cultural barriers to talking openly about sex. There is a need to increase sexual health literacy among at risk populations and to address the misconceptions and stigmatising attitudes/behaviours that prevent people getting the health care they need. Providing a human face to HIV increases empathy and sensitivity to the personal, socio-emotional and cultural impacts of the viruses; facilitates richer insight into specific community/health service provider behaviours and attitudes that can positively contribute toward improved health outcomes for people affected by HIV and at risk communities, and reduce systemic stigma and discrimination.
Project Description
The Viiv Healthcare Positive Action Grant will enable the QPSB program to neutralise the impact of HIV related stigma through a 12 month positive speaking project that engages speakers across three key domains of influence:
1) Tertiary education: students of Medical, Social Science and Health Science Programs at universities across Queensland, with intention to impact student perceptions and future practices during the formative learning stage of their careers and role development. The project goal is to inform the prevention of HIV-related stigma and discrimination within the healthcare setting.
2) CALD community HIV education programs/events: QPSB will partner with ECCQ to provide inclusion of the positive voice within culturally relevant community HIV education programs at which populations at risk and cultural community leaders are in attendance.
3) Organisations, services and secondary education setting that support/educate young people including LGBTI youth: Where possible, QPSB will partner with community organisations that engage youth in sexual health education in order to raise awareness about BBV's transmission, prevention and personal responsibility.
Project Stages:
Engagement: Identify and form key contacts and promote QPSB program within tertiary programs at select Universities; ECCQ education program staff and youth organisations and services.
Provide speaker training for purpose of recruitment in regional areas and upskilling of existing positive speakers in key regions of engagement.
Implementation: Delivery of positive speaking engagements within tertiary courses and programs relating to health sciences, medicine, social sciences, pharmacy.
Evaluation: Evaluation and reporting on project impact and outcomes.
The QPSB program will ultimately empower individuals in Queensland living with HIV (and/or viral hepatitis) to contribute meaningfully toward the change they would like to see in relation to all people affected living well with HIV in society.
Date of preparation: November 2016 | AUS/HIV/0016/13(3)e