ACON- Healthy Ageing with HIV - Self Management Groups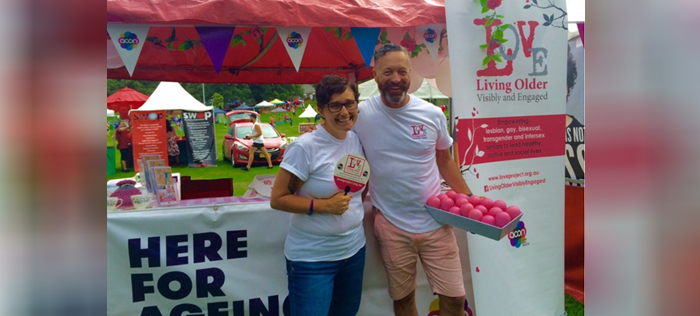 ACON is a New South Wales based health promotion organisation specialising in HIV prevention, HIV support and lesbian, gay, bisexual, transgender and intersex (LGBTI) health. ACON's LOVE Project (Living Older Visibly and Engaged), is an initiative of ACON's aimed at empowering LGBTI seniors to lead healthy, active and social lives. Many older people living with HIV may have experienced discrimination, exclusion, abuse or violence and this may limit their ability to feel connected with other people living with HIV and/or access to inclusive health services. These self management groups can help participants to assert themselves to ensure their needs and goals are being met; take steps towards trying things they may have always wanted to do; shift assumptions that everyone is prejudiced against people with HIV; let older people living with HIV get to know one another; explore social media groups for people with HIV; participate in other support groups, workshops, classes or clubs available to older people regardless of HIV status.
The ageing process does not discriminate and can bring health complications as we get older. There are ways to reduce the impact of ageing by caring for our bodies. Living with HIV is now considered a manageable chronic disease. People with HIV who are on highly active anti-retroviral therapy (HAART) can now expect a near normal life expectancy. As we age most people will face health challenges which may include cancer, stroke, cognitive decline, diabetes, reduced bone density, cardiovascular, kidney and liver disease.
Some people with HIV may have increased risks of these diseases. For most people with HIV their immune function has suffered damage from HIV infection and ongoing low level inflammation persists even with effective HAART. This suggests that people with HIV need to pay special attention to maintaining the best possible health. This project will develop self management groups for people ageing with HIV with specific content to address the unique needs that this population experiences.
The self management groups are designed to increase the awareness of a well-balanced and healthy diet; increase regular exercise; promote mental health wellbeing; reduce negative impacts of alcohol and drug consumption; promote and maintain regular face-to-face connections with friends, social groups, and family; and to improve health service utilisation and relationships with health professionals.
The core activities will include The Health Implications for People Living Older with HIV; Legal Tips - Wills, Executors, Power of Attorney, Enduring Guardianship & Advanced Care Planning; Effectively Communicating with Health Care Providers; Fitness and Exercise - maintaining and improving strength, flexibility, and endurance; Mood and Mind - a basic understanding of depression and anxiety, identifying mental health conditions, managing the symptoms, knowing when to ask for help; Managing Drugs, Alcohol and Prescription Medications; Reducing Social Isolation through Social Media and the Internet - effectively utilising the internet, mobile devices and Apps effectively; Nutrition - specific nutritional requirements.
Date of preparation: November 2016 | AUS/HIV/0016/13(3)e